Hybrid – 50% Sativa /50% Indica
This medical marijuana strain is the result of hybridization between 'White Widow' and 'Skywalker' strains. This particular strain, which is based in Los Angeles, has been the winner of several 'Cannabis Cups'. This strain was able to achieve so many awards due to its flowers and concentration. The rank #1 indica in '2013 High Times Cannabis Cup' is among the several awards received by this strain. The plant's frosty buds would glitter in the light. The plant is known to grow taller with thin branches. The sugary leaves and nugs of this strain would produce unbelievable concentrates. The lineage of this strain remains unknown.
With moderately high THC levels coming in at around 22% on average and fan favorite parentage, it's no wonder as to why it took home first place for Best Flower at the 2013 High Times Cannabis Cup. These forest green nugs are blanketed in milky white trichomes and lush orange hairs, giving it a snowy white appearance. The aromas are spicy and lemony with a refreshing pine scent on the nose. The flavors are rich in citrus and spice making this a strain to remember.
This powerhouse high can best be described as strong and honestly, not for the faint of heart. Take just one hit and you are rushed by a heavy cerebral euphoria, leaving you hazy and stoned, yet happy. This slow building high then creates a cloudiness around your head while soothing down any muscle aches or cramps you may experience. This is perfect for an end of day sleep aid or an appetite/mood boost that will last throughout the night. Enjoy it before bed for the full desired effect.
As mentioned above, White Walker Kush is ideal for the treatment of insomnia, night terrors, and restless leg syndrome. Its utterly numbing properties will have you off to Dreamland with very little effort of your own. As it is a powerful sedative, it is also great for the relief of pain, headaches, cramps, muscle spasms, and muscle tightness. The mood-boosting properties can also be helpful when treating stress and depression, however because it is technically a 'downer' strain, some find it to be unhelpful with the latter. Those who suffer from anorexia or general lack of appetite can benefit greatly from its stimulative properties as well.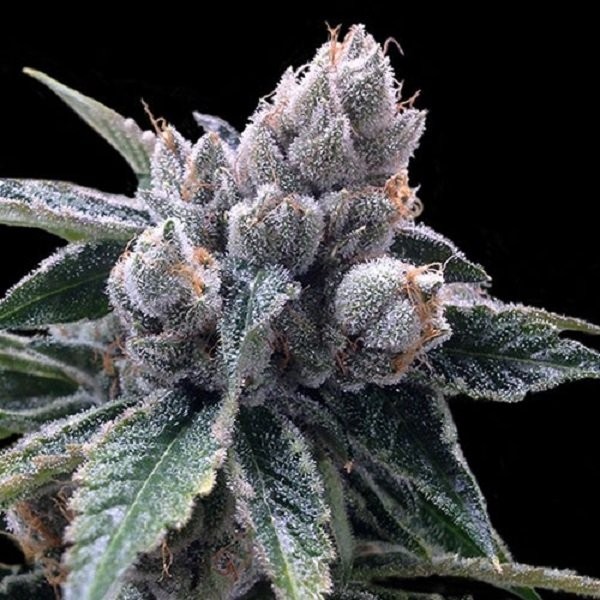 This is a popular indoor plant with a flowering time of around 7 to 9 weeks and will have a high yield if properly cared for. Recommended for intermediates and above, you can expect a medium sized plant that smells of citrus and pine. White Walker Kush is great for indoor breeders who require a less pungent odor, however, you may still want to invest in smell proofing.
If you are an experienced smoker and are looking for the best night of sleep you've had in a long time, this is definitely a strain to try. Not only is White Walker Kush incredibly enjoyable for its flavors, it is a one hitter quitter that boosts the appetite and the mood. Enjoy this strain at night after a long and stressful day and feel yourself sink into oblivion.
Lab Data
| Terpene | Amount |
| --- | --- |
| Beta Caryophyllene: | 0.11% |
| Beta Myrcene: | 0.06% |
| Alpha Pinene: | 0.06% |
| Limonene: | 0.05% |
Flavor and Smell
As with most strains, Myrcene is the most predominant in the terpene profile of White Walker Kush. It provides that unmistakable skunky, pungent, and earthy smell of cannabis.
Then comes the Limonene terpene responsible for the citrusy and fruity tones of White Walker Kush.
Next on the list of predominant terpenes is Caryophyllene, responsible for spicy notes in WWK.
White Walker Kush also contains noticeable amounts of Pinene and you guessed it – it adds notes of pine trees to the whole flavor palette of the strain.
Consumers also report sweet berry like notes as well as those of coffee in this amazing strain.
How to Grow White Walker Kush?
White Walker Kush is a quick growing strain, with huge plants and buds appearing towards flowering, which occurs in eight to ten weeks. Similar to its parent strains, it also provides a large yield – including lots of hash – while its growing difficulty is moderate and does not require advanced skills. The flower can be grown indoors as well as outdoors.
How Much THC is in White Walker Kush?
The THC percentage in the strain is not high by today's standards – around 20%. Recent testing of Silver Stem's White Walker Kush https://silverstemcannabis.com/cannabis-products/hybrid/white-walker-kush-hybrid showed 18% THC and just 0.3% CBD.
What Kind of High Do You Get from White Walker Kush?
Although the THC content is just about average but do not underestimate this strain. White Walker Kush is a sativa leaning hybrid but the effects feel more like those of an indica.
The cerebral high starts slowly and then builds up to a completely blissful euphoria, while keeping your head stoned but well functioning.
"Side effects" often include a great deal of munchies and couch lock.
White Walker Kush Strain Effects and Benefits
If you need help fighting insomnia and getting a restful night of sleep, look no further – White Walker Kush has been reported to help with this like no other. And it will not leave you groggy in the morning.
Being an appetite booster, this strain may help with cachexia, anorexia, and similar disorders.
White Walker Kush can also act as a mood elevator, helping with chronic stress, depression, mood swing, and even migraines.
Genetics
White Walker cannabis strain is a cross between White Widow and Skywalker.
White Widow
Legendary for its off-the-charts resin production, White Widow is a staple sativa-dominant hybrid with powerful energizing effects. It was produced by Dutch veterans Green House Seeds in the 1990s as a cross between Brazilian indica and South Indian sativa landraces. At the time, the underground cannabis market consisted mostly of early hybrids like Northern Lights and Haze, but White Widow has since joined the ranks of these legendary strains, winning an early High Times Cannabis Cup in 1995 and several awards since. Bred specifically for a high trichome count, White Widow is especially valued in the production of hash. This strain has an average THC composition of 20%, with some phenotypes exceeding that amount.
Skywalker
Skywalker is a 50/50 hybrid strain with a THC count of up to 15 percent. Well loved by many for the fruity aroma and taste that is coupled with a rather mellow Indica style high. Quickly creeping in is a sense of euphoria that, while not often leading to couch-lock, will usually leave a user feeling a little lazy, perhaps even sleepy.
You can find out about Dr. Greenthumb's Em-Dog Marijuana Strain here!