Sativa Dominant Hybrid – 60% Sativa / 40% Indica
THC: 18% – 25%, CBD: 1%, CBN: 1%
White Widow is a hybrid strain that many have been familiar with since the early 90's. This strain has global popularity and can easily be found atop a menu at almost any Amsterdam coffee shop. The prevalence of White Widow has greatly increased due to the television show Weeds and references within the rap industry. This strain holds a pretty balanced 60:40 sativa/indica ratio ( Brazil Sativa X South Indian Indica) that leads one to a cognitive driven high with a relaxing undertone. Patients will opt for White Widow if they're seeking a strain that allows them to unwind and relax while still maintaining a sense of mental awareness. This strain is especially good for depression, stress, pain, and PTSD. White Widow gets its name from the fact that it is literally blanketed in white crystals. Beware though, this sweet sugary smoke starts out light but expands dramatically which can lead to heavy coughing; especially if you're a novice smoker. When it comes to smell, you can expect a citrus and peppery scent that is accompanied by a lemony aftertaste. This strain is perfect for outdoor activities like hanging out at the beach or taking a nice walk.
Buds of White Widow are chunky and somewhat conical and tapered. The bud structure of the flowers are more sativa than indica, with a loose and fluffy texture that can be broken up somewhat easily despite its stickiness. The leaves are spring green with few visible pistils.
When grown successfully, buds are entirely covered in long-stalked trichomes, lending the whitish-gray appearance that gives the strain its memorable name. White Widow is known for having a stinging, ammonia-like scent with some hints of earthy pine. Breaking buds open gives off a more hashy, incense-like odor. The smooth smoke tastes similarly earthy — users accustomed to fruity or tasty crossbreeds may be disappointed by White Widow's relative lack of flavor. That said, White Widow is especially pungent when combusted, so smokers worried about discretion should plan accordingly.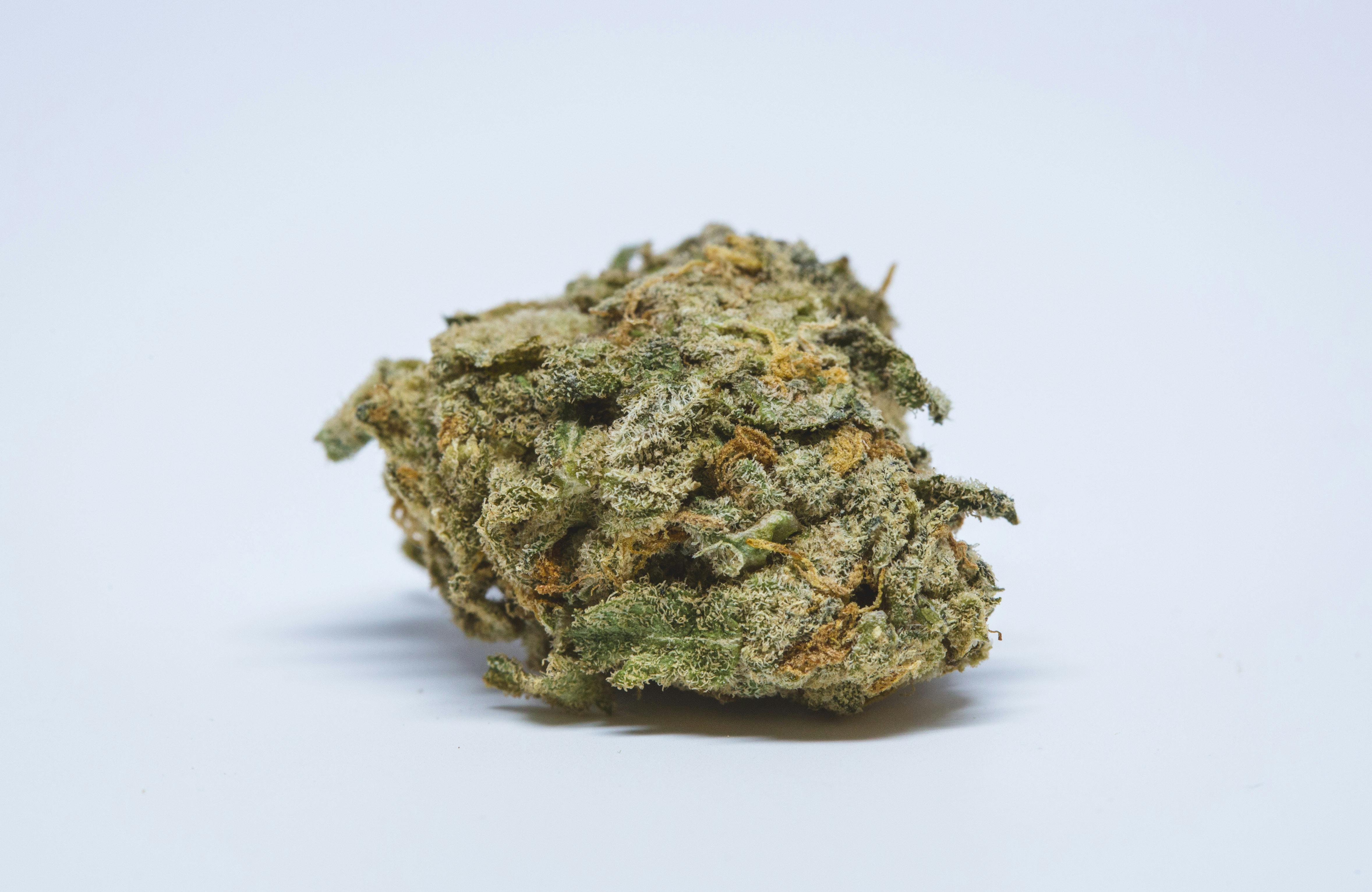 What this strain lacks in flavor profile, it makes up for in quick-acting cerebral effects. Users can become more acutely perceptive of their surroundings, tuned into sounds and patterns that may have gone unnoticed before. Enthusiasts also describe an almost immediate uplift in mood and an energy and focus that can applied to either mundane tasks like cleaning or more complex problem-solving processes. White Widow can also be creatively valuable, inducing a kind of rapid-fire thought association that can open up some previously unexplored territory. Psychedelic effects like visual distortion and increased perception can amplify the impact of music or art, while a very mild body buzz mellows users out. Because of its deeply cerebral effects, this strain is typically more psychologically than physically helpful. It can aid those with attention deficit disorders in sustaining focus on a single topic. It can also boost energy in cases of fatigue or depression. Some users have even described White Widow as efficient in relieving migraines. Because of its potency, the introspective mind-race associated with White Widow can sometimes veer into paranoia, and smokers may want to plan dosage accordingly.
You can find out about White Cookies Marijuana Strain here!
White Widow Review: Aroma, Flavor, and Appearance
Those who regularly consume White Widow marijuana have described its aroma as 'skunkily pungent,' with a sophisticated hint of hempy spice and exotic equatorial berry. In fact, the aroma of White Widow marijuana is so dynamic that most any stoner could probably sense its presence within a range of about 300 square yards. And rumor has it that Michael Phelps can even smell it underwater if someone cracks open a jar within about 200 ft of him.
With this in mind, if you are planning on consuming White Widow with discretion, this is probably not the strain to experiment with – unless you take extra preventative measures to keep the stinky scent under wraps (smoke outside, eat an edible, use air filters, or spritz a scented air spray to help kill the smell).
Sometimes, certain batches of White Widow express a particularly fruity or spicy taste, feeling as if you have just bitten into a ripe peach or juicy apple, mixed in with spice like nutmeg or cinnamon.
Appearance-wise, White Widow weed is laden with frosty, bright crystals that glisten and gleam the minute any source of light hits the nuggets. Underneath that snow-covered first blanketed layer, however, glimpses can be seen of fat sage-green buds stacked up together in tall colas, ready to be cut apart and trimmed down for the world's best smoke.
Additionally, the presence of the long bright orange pistil hairs reaches straight up to the heavens, curling on the way and joining the lengthy dark green water leaves that express an ombre-like color gradient in appearance, making this scene rather delightful aesthetically. In our opinion, there really is not a more attractive or visually appealing marijuana strain than White Widow.
White Widow: One Of The Most Uplifting Strains
The effects from smoking White Widow are consistent with that of the best sativa-dominant plants, offering users a steller, almost psychedelic high. Smokers will feel this in their head, with a cerebral wave washing over them. The flavour is clean and pine-fresh, with a hint of citrus on the exhale, making for an invigorating and tasty smoke experience. White Widow feminized by RQS isn't just another WW variety; it offers old-school genetics in a next-gen experience that you won't soon forget.
These effects make White Widow an ideal smoke during busy days and creative projects. Her stimulating high sparks enough enthusiasm and motivation to keep you engaged in the creative process for much longer than usual.
Her dense buds produce high levels of the terpenes myrcene, pinene, and caryophyllene. These aromatic molecules converge to create a flavour profile defined by notes of spice, earthiness, and pepper. White Widow goes down particularly well in savoury edibles, where her pungency comes to the fore.
White Widow Strain Review: Grow Info
White Widow is a hearty 'survivor strain,' which makes it a suitable option for any individual who has at least some experience with growing cannabis — even if this experience is sparse.
White Widow weed is fairly resistant to molds, bugs, and even colder climates, which is why – when cultivated properly – it can grow successfully without too much fuss (as long as the basic conditions and needs of the strain are being met).
White Widow's flowering period is around 8 weeks, but it can usually be grown for two more weeks in order to obtain the snow-capped frosty look that is so often attached to this strain.
If you are choosing to extend the flowering process to 10 weeks instead of 8, however, it is vital to induce a bit of stress into your girls by shortening your light cycle from 12 hours daily down to 8 hours. This will keep anything drastic from happening to your plants during the two extra weeks and will generate plenty of accumulated frost so you can get the appearance you desire from your crops.
You can look forward to your White Widow growing to about two feet tall indoors, with much greater (yet varying) heights for outside production.
Also, it's worth pointing out that when grown indoors, it is possible to successfully use the Sea of Green method alongside your usual cultivation process. And be advised that White Widow typically flourishes in a hydroponics system, soil growth, or any other indoor technique.
A typical indoor yield is around 20-24 ounces per meter squared, which is pretty average in relation to other marijuana strains. If you are brave enough to take on the challenge of cultivating your White Widow outdoors, make sure to attempt to provide your strain with as warm of weather as possible, typically in the 65-80 degree Fahrenheit range, with more than enough direct sunlight.
Although White Widow weed is known for being somewhat resistant to colder climates, you don't want to keep the plants in the cold too long, as you may risk your hard work going to waste. An outdoor-grown White Widow weed plant typically yields around 21-25 ounces of flower per plant, with the crop itself growing up to 6 feet in height – occasionally even taller. Harvest is usually in the end of October for White Widow, unless you are choosing the extended method of flowering.
Overall, growing White Widow marijuana is fairly easy, and even suitable for complete beginners if they are experimenting with the cultivation of just one plant in a closet or backyard. As long as you treat your White Widow well and give it the proper care, you should have some decent-tasting cannabis in the end.
You can find out about White Walker Kush Cannabis Strain here!