Sativa Dominant Hybrid – 60% Sativa / 40% Indica
THC: 22%
All hail Willie! America's favorite outlaw country star is also the living patron saint of marijuana users, recreational and medical alike. The popular medical selection that bears his name is a sativa-heavy blend of Vietnamese Black and Highland Nepalese (sativa/indica ratio of at least 60:40). The effects are reportedly creative and clear-headed, with a strong dose of euphoria, a mood boost, and a shot of energy. Use Willie to treat daily stresses, anxiety, chronic physical pain, low mood, and nausea. Negative effects include dry mouth and red eyes, while paranoia, headaches, and dizziness are also reported. Willie Nelson, which took the top prize in the Best Sativa category at the 2005 Cannabis Cup, has THC levels in excess of 22% in some tests, making it an especially potent medical tool. But CBD numbers aren't widely reported, so this strain shouldn't be used as the only treatment for conditions that respond to that substance. Sweet pineapple, pepper, and soil are the dominant notes in the aroma and flavor of this strain, which can be found on most legal and black markets in the United States.
An excellent strain for morning use, this strain is most often used by those looking for reprieve from the effects of stress, anxiety and depression. Willie Nelson may also help make minor to mild chronic aches and pains more manageable. Others have chosen this strain to alleviate the effects of nausea, glaucoma, migraines and inflammation.
Willie Nelson is descended from two Sativa strains Vietnamese Black and Highland Nepalese. It is bred by Reeferman and won first place in the Best Sativa category of the High Times Cannabis Cup in 2005. This strain should be grown indoors or in a greenhouse, though some have reported successful growing outdoors. Depending on the conditions and environment Willie Nelson flowers for between 10 and 14 weeks. Reportedly a decent yielding stain it is known to be resistant to disease and mold.
You can find out about White Walker Kush Cannabis Strain here!
Aroma
Willie Nelson marijuana's fragrance is a combination of sweet, citrusy lemongrass infused with earthy and sour aromas.
Flavor
The Willie Nelson strain has a citrusy flavor with a noticeable taste of pine on the inhale. The strain's more intense and sweet flavors are prominent on the exhale.
Appearance
A mature Willie Nelson plant grows quite tall and produces conical-shaped flowers. The plant's dense, tight buds have a generous layer of resinous trichomes.
The plant's reddish-orange pistils make this "Red Headed Stranger" quite a beautiful sight. (Apart from being the name of one of Willie Nelson's albums, Red Headed Stranger is also the name of another cannabis strain named in Nelson's honor).
Willie Nelson Strain Grow Info
Indoor growers should note that a Willie Nelson plant can grow quite tall. Therefore, it is essential to top or FIM this plant during the vegetative stage to keep its height under control. Topping the Willie Nelson plant involves cutting the main stem's tip, ideally at a 45-degree angle, using sterile scissors. Doing so will encourage the development of two new colas, as well as secondary branches.
Alternatively, growers may opt for another high-stress training (HST) technique known as fimming. While topping involves neatly cutting off the whole tip of the main stem, fimming involves cutting approximately 75% of it. Cultivators use the fimming technique to increase the number of new colas. Whereas topping will produce two new colas, fimming can produce four or more.
Experienced Willie Nelson growers also recommend using the Screen of Green (SCROG) or Sea of Green (SOG) method. Both of these growing methods maximize light exposure to the lower parts of the plant. Regular pruning will help improve air circulation as well, and keep the Willie Nelson plant's shape under control.
In terms of environment, Willie Nelson plants thrive in warm, sunny climates. These plants tend to take a little longer than your average strain to flower. The indoor flowering period is usually between 10-12 weeks. Outdoors, the plants will be ready for harvesting in November.
Indoor Willie Nelson growers can expect an average yield of approximately 18 ounces per square meter. Outdoors, Willie Nelson plants typically produce around 22 ounces of bud per plant.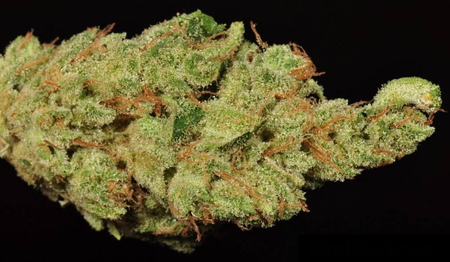 THC Content – Highest Test
The highest known THC level recorded in a sample of Willie Nelson weed is 22%. Generally, though, Willie Nelson weed has a THC level between 18-22%.
CBD Content – Highest Test
The highest CBD content contained in a Willie Nelson strain sample was approximately 0.5%.
Medical Benefits of the Willie Nelson Strain
As the Willie Nelson strain provides uplifting, euphoric effects, it may benefit cannabis users suffering from mood disorders or stress. That said, some Willie Nelson users consume the strain to manage painful conditions like headaches, arthritis, and muscular pain. Some may also find that the short-term energy boost provided by the Willie Nelson strain is good for counteracting fatigue.
Potential Negative Effects of Willie Nelson Strain
Due to the strength of the psychoactive compounds within Willie Nelson some users may experience a mild headache. Smokers who are prone to paranoia should avoid this strain, as its strength can amplify this unfortunate side effect of marijuana.
Who Is It For?
Willie Nelson is a slow, easy, effortless herb, just like its namesake. Perfect for those moments when you want to get over the daily drudges and just get shit done, Willie Nelson puts you in the perfect mood to work through chores and obligations without so much as a frown on your face. While it is pretty balanced, keep in mind that Willie Nelson can still produce unwanted jitters and overwhelming sativa-leaning effects if you bite more than you can chew. Novices should be careful to watch their dosage to prevent the unwanted effects of potent chemistry.
Where to Find Willie Nelson Strain
Willie Nelson can be somewhat difficult to find, as it is a rarer, premium strain of marijuana. Users in marijuana hubs such as Seattle, Portland, Denver, or Los Angeles, may be able to find Willie Nelson, but only after calling a few local dispensaries to check on their availability.
For the determined buyer, however, the search will pay off when they get their hands on this coveted bud.