Indica Dominant Hybrid – 60% Indica / 40% Sativa
THC: 18%
Double Dutch is an indica dominant hybrid with a 60:40 indica/sativa ratio. It has an acceptable 18% THC content but the strain does produce some of the finest strains to medicate with. The nuggets are rather large with pale green flowers. Additionally, you will also notice tiny orange hairs seeping through the surface which itself is coated in crystals. The buds are extremely sticky and quite dense at the same time. Double Dutch has a flowery perfume scent that goes relatively well with its mild fruity aroma. As for the taste, it is sensational, to say the least. The smoke is mild and tasty but it is not as expansive as you would expect it to be. Additionally, you will immediately notice a blend of fruity flavors overpowering the strains dankness making it an ideal strain to medicate with. The strain offers an exceptional blend of sativa and indica effects. The high is heady and will make you feel euphoric in no time. Eventually, you will feel incredibly lazy but you will feel your body ease up especially if you are tensed or have been suffering from sleeplessness. On the other hand, it will allow you to remain focused and active which is why the strain is perfect for daytime use. That being said, Double Dutch has various medicinal properties and can be used to treat chronic pains, stress and ADHD.
Fans adore this strain for its deeply relaxing properties that hush the mind and envelop the body without becoming too overwhelming or leading you to a deep sleep. The balance is most evident in the initial rush of energy and giggles. As that subsides and gives way to the long-lasting chill, expect to be quite hungry. It might be a good idea to prepare some snacks beforehand as the appetite boost is a fierce one. Whether you are outgoing or introverted, this strain makes most users a bit talkative.
Because of its stimulating properties, this strain is ideal for people who suffer from a loss of appetite. In one case, this strain was reported to have helped cure a person's extreme weight loss entirely. For people who struggle with mental health, this uplifting high is great for relieving symptoms of depression, stress, bipolar, and chronic fatigue which is often linked to mental health and erratic sleep schedules. This strain is a beginner's dream as it is the classic dreamy, munchie high we all love.
You can find out about Willy Wonka Marijuana Strain here!
This bushy light green plant will flower indoors or out with a flowering time of 8 to 9 weeks. Novice growers are advised to try this plant in a semi-controlled environment before attempting it outdoors. With a slightly above average yield and a low maintenance strain, this plant might just be your next favorite project.
Whether you are using this for medicinal purposes or for recreational use, this any-time-of-day bud has remained a favorite for a reason. With spot-on fruity flavors and easy to smoke buds, what's not to love? So puff on if you want a high that is airy and free-spirited while still giving you an ever-deepening body tingle. Users can all agree: this time-honored bud is what we love about smoking.
| | |
| --- | --- |
| Brand | Serious Seeds |
| Genetics | Indica-dominant |
| Parents | Warlock x Chronic |
| Flowering Time | 9-10 weeks |
| THC | High |
| Yield (Indoor) | 450-500 gr/m² |
| Yield (Outdoor) | High |
| Height (Indoor) | Medium |
| Height (Outdoor) | Medium |
| Available as | Feminized seeds |
| Flowering Type | Photoperiod |
Effects
Double Dutch marijuana induces uplifted, euphoric, relaxed, giggly, and hungry feeling. It may also also help relieve the following medical symptoms: stress, depression, insomnia, cramps, and fatigue. You may have dry mouth, dizzy, headache, and as side effects.
Please note that the effects vary from person to person, but based on our data and data from websites such as Leafly and Hytyiva below are the most consistent effects among users.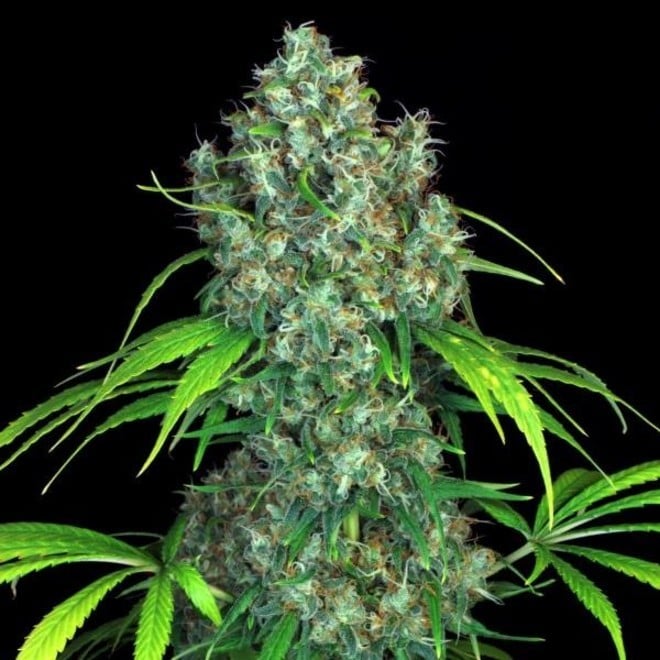 May Help Relieve
Because of its wide variety of effects, Double Dutch weed is suitable for assisting with a number of medical ailments, conditions, and symptoms. Overall, Double Dutch is considered most suitable for helping with those who are suffering from stress, depression, and insomnia.
Side Effects
Unsurprisingly, the most common side effects that have been reported from Double Dutch marijuana include dry mouth, dizzy, and headache. If you are experiencing these effects, be sure to stay hydrated and drink plenty of fluids.
Genetics
Breeder: Magus Genetics. 60/40 indica-dominant. Cross: pre-2000 Chronic (female) x Warlock (father).
Chronic
Chronic is our most commercial variety, this medium height, not too dense plant is the perfect combination of very good yield and excellent quality. Smokers who appreciate high-quality and grow for themselves choose this plant for its combination of appearance and sweet smell. With its Indica genetic background Chronic strain can produce up to 600 g/m2 without losing that special connoisseur feeling.
Grows a single huge central bud with few side branches. Topping of the plants to encourage the devlopment of multiple big side buds is possible, but the total yield can be a little less this way. A sweet smell develops while flowering and this aroma will be maintained in the finished weed, if it is dried and cured well before packaging. Putting the Chronic in plastic bags before it is thoroughly dry will destroy the subtle fragrance forever, making it mediocre weed. Out of all our strains, this is the best choice for growers who are tired of losing quality while increasing yield.
Already a winner of the 3rd prize at the High Times Cannabis Cup in 1994, this variety was improved in 2000. 1st prize at La Bella Flor Cup Spain 2003 (by Ezequiel) and 1st prize at Highlife Cup Spain 2004 (by Mundo Ganja, Alicante). 2nd prize Highlife Cup Spain 2004, category: Hydroponic (by Perenne Grow, Barcelona). Last awards won by Chronic: 3rd prize Copa Green Skull 2016, category: Solventless Extracts, Cabezon de la Sal, Spain and 3rd prize Cata Invernal 2016, category: Drysief, Spain.
Warlock
Indica Dominant Hybrid – 85% Indica / 15% Sativa
THC: 14% – 20%
Warlock is an indica dominant hybrid (85% indica/15% sativa) strain created by breeders at the infamous Magnus Genetics in the early 1990s as a potent cross between the insanely popular Skunk #1 X Landrace Afghani strains. This dank bud boasts a moderately high THC level that ranges from 14-20% on average and has a memorable aroma of earthy skunk with a hint of peppery herbs. This bud has long dense forest green pepper-shaped nugs with a spattering of thick furry orange hairs and bright neon green undertones. These nugs are dusted with a fine layer of almost translucent trichomes and are practically dripping with sweet sticky resin. Users describe the Warlock high as completely magical, combining the best of both indica and sativa effects. You'll be hit with an immediate euphoric motivated focused head buzz that starts behind the eyes and in the forehead and slowly spreads throughout the body, fading into a warming relaxing body buzz. As this numbing body buzz spreads, you'll be hit with substantial pain relief and feelings of complete bliss and ease. Due to these potent combination effects, Warlock is said to be an ideal strain for treating patients suffering from conditions such as chronic stress, ADD or ADHD, muscle spasms, and chronic pain due to injury or illness.