Indica
THC: 19% – 26%
High Octane OG, also known as "High Octane" or "High Octane Kush," is a 100% pure indica hybrid strain created through crossing the classic Chemdawg X Lemon Thai X Hindu Kush strains. This potent three-way cross is best known for its super heavy aroma and hard-hitting high that's ideal for kicking back after a long and stressful day when you really want to just be lazy and relax. You'll feel a laziness start to wash over you a few minutes after your final toke, creeping up and suddenly taking completely over. This will leave you heavily couch-locked and physically sedated, unable to get up and move for hours. As your body settles, your mind will lift with a subtle stimulating tingle, leaving you happy and totally out of focus. In combination with its super high 19-26% average THC level, these effects give High Octane OG an edge in treating those suffering from conditions such as chronic pain, insomnia, muscle spasms or cramps and appetite loss or nausea. This bud has a classic pungent sour lemon flavor with a heavy spicy herbal exhale. The aroma is super dank and pungent, with deep spicy herbs and rotting earth accented by sour citrus and spices. High Octane OG buds have popcorn-shaped minty green nugs with dark undertones, sparse orange hairs and a frosty thick coating of chunky white crystal trichomes.
Type of High
High Octane OG cannabis strain's high is a top-notch knockout one that will imbue users with a very lazy and heavy body feel. Good for a rainy day when you're not going to do anything.
Genetics
Created through crossing the classic Chemdawg X Lemon Thai X Hindu Kush strains
Chemdawg
Chemdawg is a legendary strain with an uncertain genetic history. While it is thought to be crossed from Thai and Nepalese sativa landraces by U.S. breeders, many have laid claim to this strain's creation. Chemdawg's origin stories include one account of a complicated seed exchange among fellow growers at a Grateful Dead concert and another tale pinning the strain's parentage on a Colorado strain called Dog Bud (so named for its tendency to make the smoker roll over like a dog). Whatever its beginnings, Chemdawg has become a staple in the U.S. cannabis market for its unique taste and upbeat, energetic high. It has also been used to crossbreed several popular and successful strains. Chemdawg's THC content has been measured at between 15% and 20%.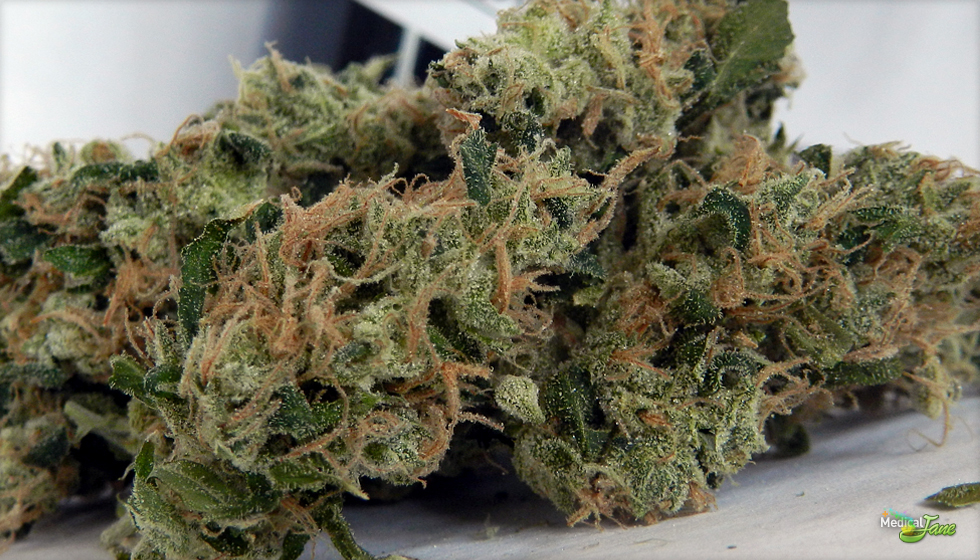 Chemdawg has medium-sized buds that look slightly different from those of hybrid or pure indica lineage. Long and tapered rather than popcorn-like, the flowers have relatively loose and wispy leaves. The spring green leaves are covered in sticky white trichomes, lending buds a silver-white appearance. Due to the combination of their loose structure and resinous texture, buds of Chemdawg are particularly difficult to break up by hand — users preparing flowers for joints or pipes will have an easier time with a grinder. The sticky flowers are threaded through with red to orange pistils. Chemdawg has a smell reminiscent of diesel fuel (which many say is the source of the "chem" in its name). The pungent flowers also give off odors of earthy musk and some pine. As long as flowers are properly cured, this strain has smooth smoke that tastes sour and when inhaled. On the exhale, Chemdawg's smoke betrays its signature diesel taste with an ammonia-like tang that hits the top of the palate.
You can find out about Zombie OG Marijuana Strain here!
Lemon Thai
Creative types will love the effects of Lemon Thai, as this hybrid brings feelings of inspiration and focus to the mind. The origin of this strain is limited, as it's unclear the ratio of sativa to indica as well as the true parentage. Dutch Flowers crossed a Thai sativa with a mystery Hawaiian strain to get Lemon Thai, a choice that's potent and delicious. Lemon Thai boasts a nice level of THC with batches averaging around 20%. Buds are long and tend to be a lighter shade of green, with an aroma that's enticing and potent. An overwhelming smell of sour lemon meets slightly earthy mint notes to create both a scent and taste that's appreciated by nearly everyone. Some users even describe a slight tingling sensation on their tongue after exhaling this magical strain.
You'd think that with potent THC levels, Lemon Thai might knock you out and render you less than useful. In fact, quite the opposite is true, as this strain is known for its ability to make users super focused, energetic, and extremely happy. The cerebral high can also impart the desire for introspection and thoughtfulness, offering you a chance to think about what's important in life. Keep in mind that this strain may not be the best choice for newer users or those with a lower tolerance – using too much may lead to couchlock or paranoia.
You can find out about Wookie Marijuana Strain here!
Hindu Kush
One of the original landrace strains that precipitated the popularization of cannabis throughout the world, Hindu Kush is a potent pure indica. It is indigenous to the Hindu Kush mountain chain that forms the border between Pakistan and Afghanistan. The meaning of the word "Kush" is disputed, and has been traced back to a Persian term for "Hindu killer" (in reference to the danger of crossing the inhospitable mountains) as well as to Avestan words meaning simply "water mountain." In any case, Kush has become a byword for weed and is often used a suffix in the names of different strains, regardless of whether those strains have Hindu Kush in their lineage.
Seeds of Hindu Kush — along with seeds of other Asian landrace varieties like Afghani — were brought to the U.S. in the 1960s and 70s by cannabis enthusiasts and explorers who traveled along a route that has come to be known as the "hippie trail." In time, Hindu Kush has, perhaps inevitably, been crossed with other strains to allow for stability and adaptation to a radically different climate than its mountainous point of origin; as such, "true" Hindu Kush may not be widely available in the Western Hemisphere. Nevertheless, Hindu Kush is a relatively pure strain, simpler and often more potent that the novelty crossbreeds that continue to multiply in today's competitive cannabis market. It is prized for its heavily sedative, almost narcotic properties and its highly resinous flowers. The THC composition of Hindu Kush is typically measured at between 15% and 20%.