Hybrid – 50% Sativa /50% Indica
THC: 21%, CBD: 1%, CBN: 1%
Purple Dragon is a mixture of Blue Dragon, a sativa-indica hybrid, and Purple Urkle, a powerful indica favorite. The exact balance of indica and sativa is unclear, but it's known to be indica-dominant, producing calming but euphoric high with happiness, drowsiness, and powerful hunger. The effects start in the head and then move to the body. THC levels are very high, at least 21% in publicly available lab results. Surprisingly, then, CBD levels are also relatively high, between 1% and 2%. That means Purple Dragon may be useful in the treatment of seizure disorders and other conditions that respond to CBD. It's also recommended for treating anxiety, low mood, physical fatigue, inflammation, migraine headaches, mood disorders, chronic pain, and insomnia. Both the flavor and smell of this strain contain notes of flowers, sage, and spice, while the buds have a combination of purple, green, and orange hues. Dry mouth is the only widely reported negative effect from using Purple Dragon, though dry eyes, dizziness, and paranoia are also possible. Though it isn't on many top 10 lists, this strain sells fairly well in Arizona, California, Washington State, and British Columbia.
Purple Dragon has medium-sized, shape-shaped nuggets that are immediately eye-catching. The flowers hold together in a dense, solid formation, characteristic of other indica varieties. The tightly-spiraling leaves are usually mossy green, threaded through with vibrant orange pistils. Depending on the phenotype, these buds may also be highlighted by varying patches of deep blue and purple. These latter colors come about when high concentrations of pigments called anthocyanins in the plant's genes are stimulated by colder than average temperatures during the growing process. The already-colorful flowers are made even more colorful by a dusting of cloudy white trichomes. This resin also gives the buds a sticky texture and makes them particularly difficult to break up by hand. Purple Dragon also has a dynamic taste to match its visual bag appeal. A tart, fruity aroma wafts up from the buds, likely passed on from grandparent strain Blueberry. Also present is a slight chemical astringency, reminiscent of the gasoline odor of Sour Diesel. When combusted, this strain gives off a very smooth that has notes of musk and hash alongside its fruity palate. Notably, any grape flavors present in Purple Dragon's smoke are incidental; the pigments that determine its purple color do not have a corresponding effect on its taste.
Purple Dragon's high is almost imperceptible at first, but slowly creeps up on the user, emerging as a pressure in the face, particularly behind the eyes. Smokers may also detect some increased salivation at the back of the tongue. Relaxing indica properties reveal themselves first a heavy head and droopy eyelids may prompt users to sit down and settle into the most comfortable and familiar surroundings. As the high progresses, a mild but persistent head high may also spring up to accompany this thorough body stone: the user's thoughts may happily drift from one to the next. A feeling of emotional uplift may be present as well. Because it relaxes the mind as well as the body, lowering the usual inhibitions of convention and logic, Purple Dragon can be good for creative or analytical thinking. It is also well-suited to passive activities like psychedelic enjoyment of music or movies. Long-lasting even for even experienced cannabis users, Purple Dragon can be consumed at any time of day … although its slight sativa edge may keep smokers wired around bedtime.
Aroma
You should be able to get a fruity aroma from the Purple Dragon with a blueberry scent likely the most prominent. Overall, it offers a sweet and earthy taste with a hint of sage that intrigues the senses.
Flavor
Purple Dragon has a spicy and skunky flavor, with sweet and floral hints. As you exhale, you may get a fresh earthy taste with hints of sage and pine.
Appearance
Purple Dragon is a gorgeous strain to behold with its medium-sized nugs, mossy green leaves, and bright orange pistils. If you are lucky and get the right phenotype, you may see hints of blue and purple on the buds. You get these colors when there is a high concentration of pigments called anthocyanins in the plant's genetics. The cloudy white trichomes ensure the buds have a sticky resin which makes them difficult to break up by hand.
Purple Dragon Strain Grow Info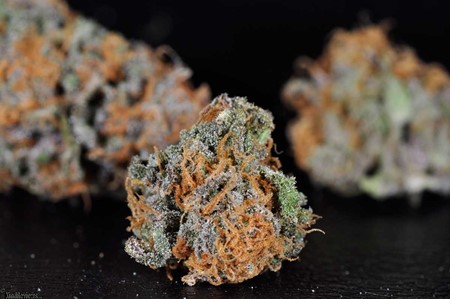 Rather than purchasing Purple Dragon strain seeds, you'll need to get clippings from healthy plants to grow clones. As is the case with most hybrid strains, you can grow it indoors or outdoors.
If you choose the latter, you need to live in a humid Mediterranean climate with a daytime temperature range of between 70- and 75-degrees Fahrenheit. When grown outside, Purple Dragon is ready for harvest by mid-October, and it provides a yield of around 19 ounces per plant. If you can only grow Purple Dragon inside, its flowering time is 8-9 weeks, and it offers a fairly generous harvest.
Although it isn't easy, you can bring out the purple coloring of this strain by exposing your crop to cold nighttime temperatures during the late vegetative stage. The aforementioned anthocyanins are stimulated by colder than normal temperatures and produce higher concentrations of pigments.
We don't recommend attempting this tactic if you are not an experienced grower. When marijuana plants are exposed to cold temperatures, they go into 'shock,' and their growth is stalled for a short time. If you bring the temperature down too low, you could permanently stunt growth or even kill the plants!
What Can I Expect When I Use Purple Dragon Weed?
In many ways, you get a strange high when you try using Purple Dragon cannabis. It isn't a strain that hits you quickly, but just when you think nothing is happening, you feel a pressure building up behind the eyes. You may also find that your rate of saliva production has increased. The initial effects are associated with the indica side of the strain, as you feel droopy eyelids and a desire to sit down.
It is primarily a physical high although you may feel uplifted as your thoughts effortlessly drift. You may find Purple Dragon useful if you are in desperate need of a creative boost because it could help you think outside of the box. Users often claim that this strain is ideal for a marathon of movies or music. While you can use Purple Dragon at any time, it is best enjoyed in the late evening.
Medical Benefits of Purple Dragon Marijuana
With a CBD content of up to 1%, Purple Dragon has potential medicinal properties. If you have severe aches and pains, its sedative effects can help soothe you. It also seems to have an anti-inflammatory effect which ensures it is used to treat a variety of conditions, including migraines and nausea.
If you are feeling low, Purple Dragon's euphoric effects can help boost your mood. As such, it could be used by individuals dealing with symptoms of PTSD, anxiety, and depression. As it can help improve focus, it could have use in treating ADD or ADHD. If you are having trouble sleeping, use a large dose of Purple Dragon in the evening; but only do so if you are an experienced user.
Possible Side Effects of Purple Dragon Weed
In general, the side effects associated with Purple Dragon are relatively minor. Some users report a dry mouth or dry and itchy eyes. If you have a low tolerance for marijuana, or else you use too much, this strain could cause mild dizziness. It could also increase the rate of paranoid thoughts if you are predisposed to them.