Sativa
THC: 24%, CBD: 1%, CBN: 1%
Expect a major blow to the head from this super-potent strain. A pure sativa, Durban Poison is the beloved inbred descendant of a sativa strain grown in South Africa. Ed Rosenthal, an American cannabis activist, discovered the original strain and brought in back to the United States in the 1970s. It has long been a favorite of stoners and medical marijuana patients here. Durban Poison has THC levels that can reach 24%, making it one of the world's more powerful strains. This strain hits with a strong, happy head high that's great for creativity and daytime errands. Paranoia may be a possible side effect, along with dry mouth. Durban Poison is an effective treatment for depression and anxiety, as well as chronic pain, and it can also be helpful with nausea. This strain is ideal for making concentrates, as the bud is covered in over-sized trichomes. The dominant smell and taste of Durban Poison is earthy and sweet, with a subtle pine aroma. The buds are round and chunky, with a dense coating of trichomes. This strain is best for active periods, chores, and other daylight activities.
Cannabis has been cultivated on the African continent since at least the 14th century; by the era of Dutch colonization, it had spread south and the Khoikhoi, San, and Bantu groups indigenous to South Africa had an established cultivation and cultural acceptance of the drug, which they called dagga.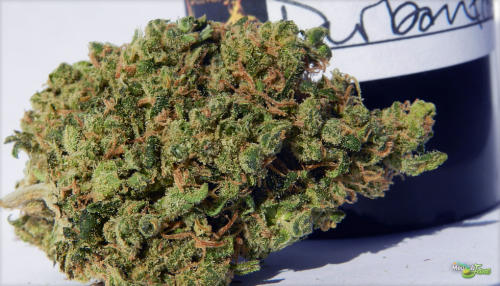 You can find out about Dr. Who Marijuana Strain here!
In the late 1970s, American breeder Ed Rosenthal selectively bred several plants from a bag of South African seeds that he brought back to the U.S. Rosenthal then passed some prime specimens on to fellow breeder Mel Frank, who fine-tuned the genetics to optimize resin content and flowering time. Frank's efforts resulted in "A" and "B" lines of the original seed stock; the B line was given to Amsterdam breeder Sam the Skunkman, who further reduced the strain's flowering time.
Named after South Africa's second largest city, Durban Poison offers a chance to enjoy one of Africa's contributions to the panoply of potent global landrace strains. It has a sweet, hash smell and a high resin content that makes it particularly valuable in the production of THC concentrates like shatter and wax. Often likened to espresso, Durban Poison gives users a mobile and active high that's as enjoyable at a party as it is at alone, accomplishing creative or mundane tasks.
Aroma
Durban is known for possessing a very distinct blend of sweet and spicy smells — fennel/anise, orange, lemon, and a creamy sweetness are the most common descriptors.
Flavor
Very sweet and intoxicatingly complex, Durban Poison presents the sativa-lover with a palate of flavors ranging from sweet lemon candy to spicy anise, making it a favorite of many dispensary patients as well as connoisseurs.
Qualities
Durban is a fabulous daytime strain, with a clear, functional effects package that stimulates creativity, sociability, and overall mood.  It's very energetic and is seen as one of the more pure-feeling sativa varieties widely available on the market. The true South African Durbans are known for being extremely racy and borderline psychedelic, but the toned-down Dutch versions that circulate the United States and Europe lose some of that edge, perhaps for the benefit of the average consumer.  The primary medicinal benefits are energy, appetite stimulation, migraine relief, and anti-nausea properties.
Grow Medium
Durban was known and loved in Holland because it was one of the few sativas that could finish outdoors — the short-flowering versions are suitable for Northern climates.  Grows very tall outdoors, but most varieties are totally manageable indoors, especially with training such as SCROG.
Durban Poison: Strain Genetics
Being an original "landrace strain" is what REALLY makes Durban Poison stand out. (A landrace strain simply means it doesn't have a complicated history of cross-breeding and mixing and matching with other strains.) Durban Poison is special because its genetics stretch back in time where strains were closer to nature and had little human tampering. The more growers are cross-breeding, the less of our original strains we'll have left. Let's hope there's a master grower out there who are looking into the future and has secured, in a safe facility, as many original seed strains as one can reasonably acquire.
Durban is sweet to the smell with an earthy undertone with a touch of pine. This smell is produced by the dominant aroma and taste producing terpene D-Limonene. Limonene is a terpene that is commonly found in citrus fruits, which is what causes the dominant sweeter smells. A "pure" Sativa, Durban Poison's THC content averages between 16-25%. CBD content, however, is notably low, rarely exceeding 0.02%. Durban Poison is also one of the most popular strains for crossbreeding and creating new strains.
Durban Poison: Effects & High
A practical nickname could accurately label Durban Poison as the "Productive Poison." Once the near instant effects kick in, your mind "clicks" into overdrive causing your body to TRIGGER into useful action. Your mind clears, you WAKE up with bright energy and you're ready to intelligently navigate your day with LIVELY ease. Having a brain full of this Sativa, Durban Poison fans report this strain uplifts their mood, makes them happy, euphoric and focused.
"One of the rare unadulterated sativas on the market, Durban Poison provides a big energy boost, which makes it a go-to strain for daytime." – Sohum Shah, The Cannabist
Also known as the "coffee" of cannabis, this particular strain is one of the "raciest" Sativas on the market. It produces a stimulating and crystal clear head-high without causing a blurry stoney brain fog. Nothing but sweet uplifting vibrations giving you TONS of energy to make SEIZING THE DAY an easy breeze.
Long story short. If you have important things to do & you ALSO want to get stoned, Durban Poison makes the most practical sense. Have a productive day while using your mind to do smart stuff or your body to do hard physical labor. Nothing wakes you up and puts you in the zone quite like a bowl of Durban Poison.
You can find out about Purple Dragon Marijuana Strain here!
Many loyal Durban Poison users claim the strain offers relief from stress, depression, pain, fatigue, and headaches. The most commonly reported side effects are generally mild, including dry mouth, dry eyes, and anxiousness. Some find Durban Poison users claim the strain alleviates headaches, while others have reported experiencing a headache. Of course, everyone reacts differently, and moderation is the key to finding the appropriate balance.