When you cross the two delicious strains Tangie and Purple Punch, you get a Sativa leaning hybrid that emits a scent and taste that is tangy, citrusy and fruity with notes of grapes, lemons and tangerines.
The effects of Orange Ade have been reported by many reviewers to be very cerebral and mood-enhancing, they've noticed increased energy as the body falls into a relaxed state of bliss. Some have used Orange Ade to help ease such things as anxiety, stress, feelings of depression and fatigue.
When viewing the nugs of Orange Ade, you will see lime green buds, bright orange pistils and a light dusting of trichomes that give a frosty appearance.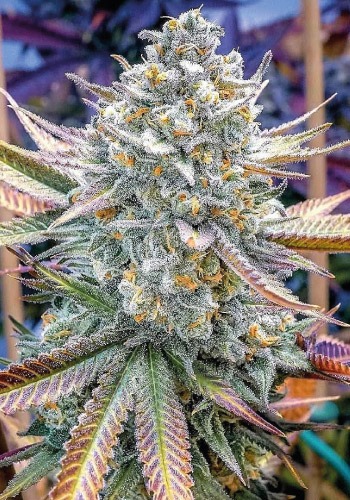 THC percentage levels of Orange Ade tend to stay in mid-teens to the lower 20's.
Hunger may arise with this strain, so keep some healthy snacks nearby.
Lab Data
| Cannabinoid | Amount |
| --- | --- |
| THC: | 21.01% |
| Terpene | Amount |
| --- | --- |
| Beta Caryophyllene: | 0.508% |
| Limonene: | 0.241% |
| Alpha Humulene: | 0.188% |
Orangeade Strain Genetics
Not very much is known about Orangeade except that it was bred by Symbiotic Seeds as a mix between Tangie and Purple Punch. Of course, this fact in itself should say much about the quality of this strain.
Tangie is a cross between the legendary Skunk #1 and an unknown landrace strain, while Purple Punch has an equally impressive lineage (Larry OG x Granddaddy Purple). Orangeade has a slight sativa edge, with high THC levels.
Orangeade Strain Terpene Profile
As you can easily guess from this strain's name, the scent and taste of Orangeade are crisp and fresh, like orange-flavoured candy. The smell is characteristically floral and tangy, with a few hints of citrus.
When vaped, Orangeade releases a creamy, orangey taste that makes it an excellent choice for newbies, as well as people who like sweeter cannabis strains.
Orangeade Strain Effects
The effects of Orangeade are a perfect mixture of euphoria and relaxation. Be prepared for a gentle head high, accompanied by a deep state of relaxation.
This strain will not sedate you, it will increase your appetite, so be sure to have some healthy/delicious snacks around. The combination of mental alertness and muscle relaxation makes Orangeade a perfect after-work strain.
The first thing that's noticeable is that I'm instantly feeling uplifted early on in this high. I feel chatty and clear headed with a light headband cerebral feeling, but not behind the eyes like an indica might, but almost like the top of my head has been raised a couple of inches higher.
There's a continuous uplift in high as the smoke goes on though the head buzz stays consistent. Im still feeling very functional and clear headed, but my body is starting to feel a lot more relaxed. And a while on it's becoming very clear that if you smoke to much of this strain, you're probably gunna get a bit of couch lock!
This pheno of Orangeade definitely packs a punch! So don't be fooled in to thinking this is just another light buzzy tangie cross. Like I said, this hybrid definitely has the ability to put you in to the back of your chair for a good while if you smoke too much, so I would say to smoke this one in moderation.
I would say that overall this is a perfect strain for most occasions, with very talkative and buzzy effects, but with a body relaxing side kick. The terp profile is absolutely unreal (if you like oranges), and it has to be noted how divine the flavour still is half way down or even at the end of joint.
This isn't like any other tangie cross Ive smoked. Ive tried Purple Punch a few times and not been a massive fan of its terp profile, but combined with tangie and it's definitely a winner! Almost a prefect combination! You definitely know you've smoked something after hitting the Orangeade so go easy on it and you'll be ok!
How to Grow Orangeade Strain
As a sativa-dominant hybrid, Orangeade (available in regular seeds) needs some extra care in its upbringing. That being said, growing indoors might be a better option so that you can control the plant's environment.
What is Orange Ade?
The Orange Ade Cannabis Strain is a Sativa Dominant hybrid that consumers report they enjoy for its mouth-watering flavor profile and uplifting effects.
What does Orange Ade mean?
The Orange Ade Strain is named after its delicious scent and flavor. It is a cross between the two strains, Tangie and Purple Punch.
Where does Orange Ade come from?
This Sativa-dominant Orange Ade Strain is a cross between Tangie and Purple Punch.
What does Orange Ade taste like?
The taste of Orangeade is like its scent, tangy and citrusy with notes of grapes, lemons and tangerines.
What does Orange Ade smell like?
The scent of the Orangeade Cannabis Strain is, as its name implies, citrusy and mouth-watering with notes of oranges, grapes and other citrus fruits.
What color does Orange Ade have?
The Orange Ade Strain has various shades of lime green flowers with bright orange hairs and a moderate frosting of trichomes.
FLAVOUR
It's completely mad to think that you could get such a soft, sweet fruity flavour from smoking a plant! Theres not one bit of harshness to any toke on the blunt I'm smoking, showing off the pure cleanliness of this flower.
On the inhale you get a real tingle on the tongue to accompany a smooth sherbet orange flavour, and I swear it tastes so clean you almost don't feel any intake of smoke, making it feel somehow subtle but still full of flavour, and the exhale is a lot more prominent with a more creamy flavour, but still with hints of orange.
Even though the flavour is sweet, there's still that kinda orange peel kind of hint to it. Its like San Pellegrino Orange and Callipo Orange had a baby and created the Orangeade terp profile baby!
When not smoking, you're still left with an overpowering taste of fruity orange, and as a bit of dry mouth becomes apparent, you even get a bit of sourness at the back of the throat, a bit like you do when you've just drank orange juice with dry mouth and you get that sour taste left at the back of your throat.
AROMA
As I said in the intro, this pheno was named the 'Kenan and Kel' Orange Soda cut. And 'chjeeeeeeez' does it smell of sweet orange! As soon as the bag is opened there is a burst of sugary orange that hits you, that reminds me personally of orange peel mixed with lemonade.
The buds smell like no other tangie cross I've come across. When you crack a bud open you get hit with terps of just pure orange sweets with the slightest of tangie twang. This is a smoother smell, and reminiscent of the flavour I remember from Orange Calippo's from when I was just a wee lad!
APPERANCE
So in front of me Ive got a bag open full of tight little boulders of lime green trichome caked buds. When emptied on to a surface you can hear how solid these nugs are
Each bud is small in size with minimum stalk, and the first thing that's clear is how coated they are in resinous trichomes. The buds are almost a slightly lime tinted white colour due to this coverage, but when you look closely you can see dark subtle flecks coming through. Colours ranging from lime green to hints of dark blue where the Purple Punch has started to come through.
The buds have such a sugary look to them and the smell that comes with it definitely has the sweetness to match!