Indica
THC: 22%
Purple Kush is a 100% pure indica strain created as a potent cross between the insanely popular Hindu Kush X Purple Afghani strains. This dank bud was named one of the Top 10 Most Powerful Strains in the World by High Times magazine and boasts a THC level that ranges from 22% on average. Users describe the Purple Kush high as having an immediately uplifting euphoric head high that leaves you completely pain-free and slightly introspective. This is accompanied by a warming numbing body high that starts in the head and spreads throughout the body, leaving you completely relaxed and sedated. Upon the come down, you'll be eased into a deep and powerful pain-free sleep that lasts hours on end. Due to these potent effects, Purple Kush is said to be an ideal strain for treating patients suffering from conditions such as insomnia, chronic pain, nerve damage, and muscle spasms. Purple Kush has an iconic smell of earthy sweet grapes and a taste of earthy red wine. These buds have small furry bright neon green nugs with rich purple and fiery orange hairs and dark purple undertones. These nugs are frosty with fine white trichomes and sticky with sweet resin.
This strain has medium sized, popcorn-like flowers when cured, with a very dense, heavy bud structure. Depending on the phenotype, leaves can be equal parts green and purple. The tendency towards purple, selectively bred from the Purple Afghani parent strain, comes about when the plant's anthocyanins — pigments similar to chlorophyll — are activated in cold growing conditions. This process is similar to the breakdown of chlorophyll and the stimulation of red and yellow pigments that causes foliage to change colors in autumn.
As with parent strain Afghani, Purple Kush also has a very high capacity to create sticky resin, making it valuable in the production of hash and other concentrates. The tightly-curled flowers are covered in trichomes, giving the green and purple leaves a dewy white sheen. Orange pistils, intended to catch pollen from male plants, stand out against the already-colorful flowers.
As might be expected of a purely indica plant, Purple Kush grows low and bushy. Those looking to cultivate their own plants of the strain may have success outdoors or indoors, but may have more success indoors where they can control the growing conditions. Large numbers of plants can easily fit within a vertically-limited grow space, as they seldom exceed 3 feet in height. In order to bring out Purple Kush's trademark purple hues for its full visual potential, growers may also want to shock the plants and activate the anthocyanins by exposing them to cold temperatures; however, growers should be sure to only take this step shortly before harvesting so as not to reduce the plant's overall yield.
Purple Kush plants flower within 8 weeks when grown indoors and in mid to late September when grown outdoors. Under ideal conditions, growers can expect a moderate yield of about 37 grams (or 1.3 ounces) per square footage of plant.
Finally, those who have successfully harvested a crop of Purple Kush will want to properly cure their buds to preserve the colorful and tasty flowers — all that's required is hanging the buds upside down for about a week in a room that maintains 50% humidity and a consistent temperature of 70 degree Fahrenheit and then sealing the dried buds in wide-mouthed jars in ambient surroundings of 70 degrees Fahrenheit and between 60-65% humidity.
Purple Kush has the special distinction of being visually striking and boldly flavored without sacrificing genetic stability — unlike many hybrids that are specifically crossbred for taste, this strain has roots that stick as closely as possible to the cannabis species' origins in Asia. It's no wonder the variety has spawned popular imitations like Las Vegas Purple Kush. An excellent evening smoke at the end of a long day or week, Purple Kush is uniquely mouth-watering and relaxing.
Purple Kush Strain Review: Aroma, Flavor, and Appearance
One aspect of Purple Kush weed that certainly sticks out to consumers globally is its incredible aesthetic appeal that not only sits pretty on the eyes but also delights the taste buds and nose, stimulating almost all of the senses.
The physical elements of the Purple Kush strain are beyond original, with not many other marijuana strains existing in the world that appear quite like this one. When you first crack open that jar, you will be overwhelmed with a sweetness reminiscent of your favorite grape candy, with hints subtle of earthy pungence mixed in.
The flavor of Purple Kush weed is of course similar to the smell, with a nice wine-like tang where you can savor the sensation of freshly-plucked grapes.
Aside from taste and smell, the appearance of Purple Kush is probably its most famous attribute, with an all-over vibrant coloration that sparkles and glows with divine pinks, purples, and reds, all ranging in shades from dark to light; faint to strong.
In between the sea of violets, you can catch deep to neon green sugar leaves, with bright orange pistils that reach and curl, straight for the clouds. The water leaves are equally as stunning too, featuring tips that range from deep purple to burgundy to coral orange in tone, recollective of a powerfully designed expressionistic painting.
All of these brilliant characteristics, plus just the core manner in which Purple Kush can make you feel, all combine to become an explanation for why PK is simply so iconic, especially in regions extending throughout California.
Purple Kush Strain: Grow Info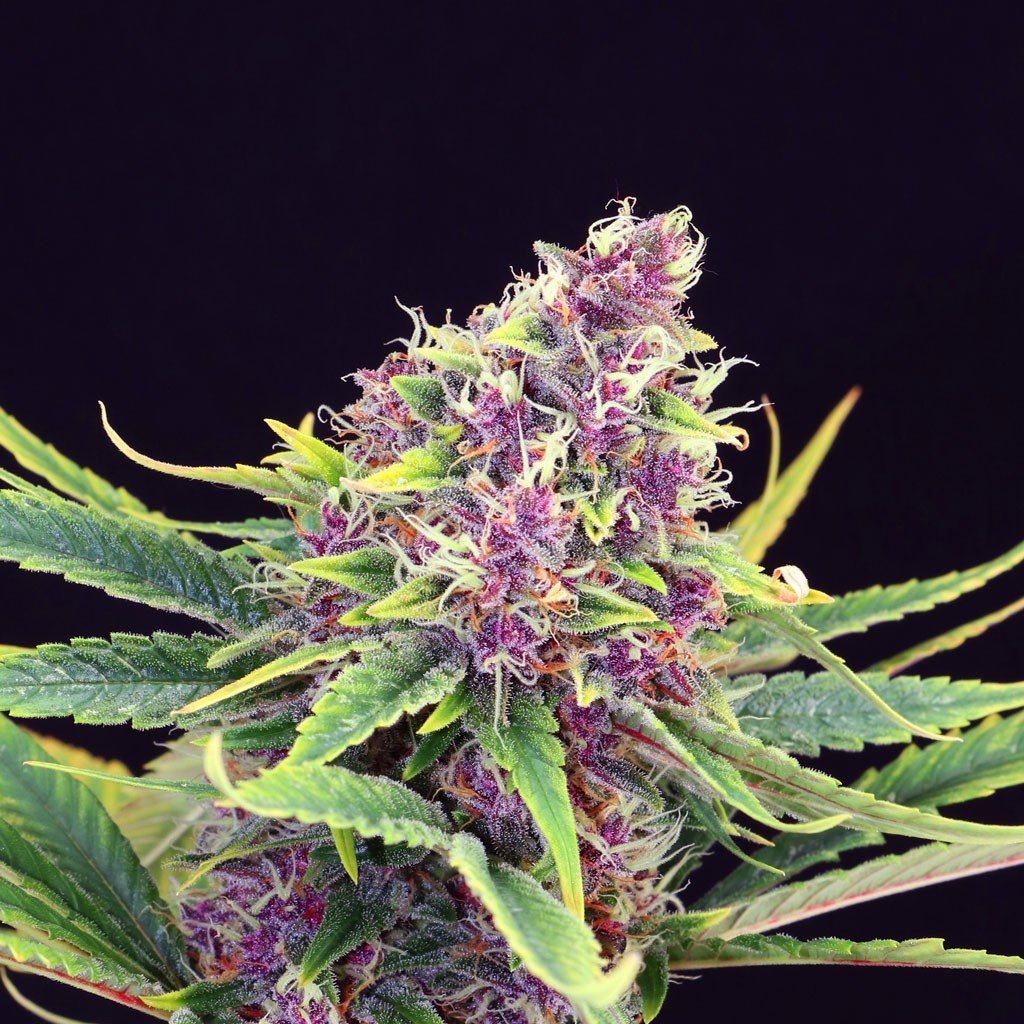 Most would probably agree that growing Purple Kush marijuana is of medium difficulty. As is characteristic of almost any 100% pure indica strain, Purple Kush grows low to the ground with a bushy figure, making it sometimes a challenging marijuana strain to properly cultivate in an outdoor environment.
Due to its low stature, if you are growing PK outside, you have to find a location with an adequate amount of full-sun, so that even the leaves lying low to the ground are permeated by the rays. Additionally, search for an outdoor area that is dry and lacks humidity or exposure to rain.
Even if Purple Kush is naturally quite resistant to mold, powdery mildew, and pests, getting this crop wet can prove problematic. You won't need to worry about bugs though, because these little critters absolutely despise the bitter taste of this marijuana strain and steer clear of it.
Additionally, inside it is effortless to keep PK away from humidity and rain, as well as keeping the temperature stable. Soil grown methods are probably best for Purple Kush because hydroponics indoors can sometimes result in an increase of humidity, becoming harmful to the plants. Hydroponics could work, but extra measures would need to be implemented, such as an around-the-clock dehumidifier, for success.
The flowering period of Purple Kush weed is around 8 weeks, which is shorter than average, with outdoor grown plants becoming ready to harvest around late-September, earlier than many other marijuana strains. An indoor yield is typically around 15 ounces per square meter, with outdoor yields ranging slightly lower at around 9 ounces per plant.
History of the Purple Kush
A brief rich history of this marijuana series is that it is a potent blend of Afghani and Hindu Indica pot that was created in Oakland, California. It boasts of up to 100% Indica genetics, and among other series of cannabis, this one provides a sedating, relaxing, and stoned high effect. The series also provides a moderate to a high amount of THC, rated at between 17 to 27%. It also produces a sticky resin and thus is the number one option for producing concentrates such as Rosin Tech was and shatter. Its flowers are dense and are rich in trichomes, thus a fuzzy white sheen on the flowers that are studded with spectacular psychedelic look-alikes of orange pistons.
The strain is famous due to its total bliss that it rains on one. In fact, from the past, it has continually been celebrated, especially in California. Also, it is featured more often in the music industry, especially reggae and hip-hop.
Purple Kush Effects
The weed will make an eloquent addition to your daily cannabis routine and is perfect for a time to chill with your pals, your lover, or on a date. This cannabis marijuana will see you break your barriers as well as empower you to melt into a lasting bliss, which only gets better as time goes by.
Most people who hit a few puffs of the Purple Kush before retiring to bed familiarize themselves with the feeling of falling into a deep sleep, enjoying a most restful sleep at night than they have ever experienced. You won't be mistaken if you call the purple kush marijuana a godsent is you have insomnia.
Side effects of Purple Kush
Purple Kush is cool, and there are no major side effects that have been recorded after consuming it. This is because it is neither a stimulator nor Sativa- influenced cannabis strain in any way. You may experience the following;
Increased stress
Paranoia,
Cottonmouth
Anxiety