Indica Dominant Hybrid – 60% Indica / 40% Sativa
THC: 28%, CBD: 1%, CBN: 1%
Girl Scout Cookies is an indica-dominant hybrid with a strong sativa component (40:60 sativa/indica ratio). This strain can reach THC levels of up to 28%, meaning it's one of the most potent strains available to medical marijuana patients. This strain provides the best aspects of both sativa and indica, and the high is powerful, happy, and euphoric, but with couch-lock body effects and feelings of lethargy. Girl Scout Cookies tastes sweet and earthy, and it smells much the same. It's most effective at treating anxiety, stress, and depression, though it's also good for appetite. Dry mouth is the only likely adverse effect, though others are possible. This strain began as a crossbreed of OG Kush and a near-even hybrid; (Durban Poison X F1). Girl Scout Cookies first appeared in California and is now one of the most popular strains in North America, where sells best on the West Coast and in Michigan. The high lasts for hours, making Girl Scout Cookies a good deal in most places. It can be difficult to grow, but it's fast becoming a staple among home cultivators.
Cookies is also sometimes known as Berner Cookies or Berner's Cookies, after cannabis mogul and rapper Berner (whose real name is Gilbert Millam, Jr). A San Francisco native, Berner lays claim to originating the strain with a growing collective that's become known as Cookie Fam. A master of branding, Berner shot Cookies into the mainstream when he got his product into the hands of no less than Wiz Khalifa. It has since become a staple strain across the U.S.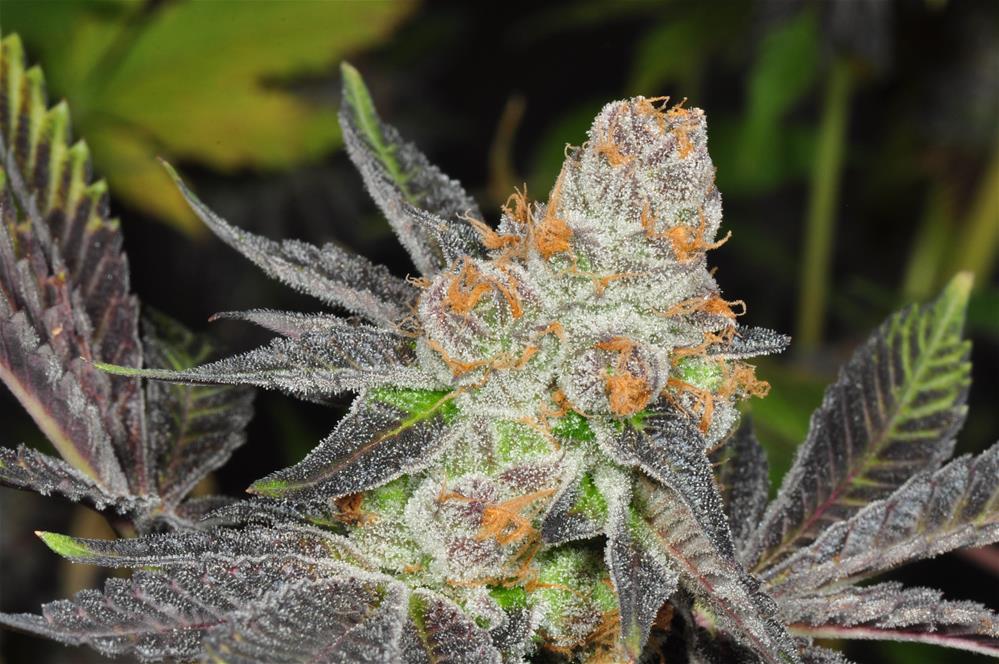 By crossing two super popular strains, the underground breeding collective Cookie Family (or Cookie Fam) has been able to elevate THC levels to a whopping average of 25% to 28% and boast CBD and CBN contents to 1% as well. If that wasn't enough to entice you, then the flavor and aroma will definitely draw you in. At first opening of the bag the sweet, earthy aromas hit your nose and only grow sweeter as you break apart the buds. The smoke of this strain is dessert like and will certainly endear you to these light green and purple-hued buds. The fiery orange hairs and bright purple leaves make it just as pleasing to the eye as it is to the palate.
Girl Scout Cookies Similar Strains
Green Apple Weed Strain
Purple Unicorn Weed Strain
Bio Jesus Weed Strain
FPOG Weed Strain
Bruce Banner Weed Strain
Oracle Weed Strain
Sour Dream Weed Strain
3 In The Pink Weed Strain
Grow information
When cultivated indoors, GSC's flowering time is approximately 62-71 days after switching the light cycle from veg to flower. Outside, growers will need to wait until mid-October in the Northern Hemisphere, mid-April in the Northern Hemisphere, for harvest. Regardless of wherever GSC is cultivated, the plant wants to grow tall and requires training, pruning, and full exposure to light to reach its maximum yield potential.
Lineage
Unknown in Truth; popularly claimed to be OG Kush x Durban Poison, or OG Kush x Cherry Pie (GDP x Durban Poison)
Story
Very little is known about the origin of Girl Scout Cookies. The only certainty is it was bred in San Francisco, California, sometime in the last couple of years; perhaps 2011 or 2012.
The strain was developed by a Nor-Cal group of associates known simply as the Cookie Family. From there, different phenotypes (some perhaps bag-seeds) have been distributed throughout the United States. Most notable of this array of Girl Scout Cookies is the "Forum Cut," made available through internet networking among breeders.
Appearance
Girl Scout Cookies has a tall, branchy, OG-like structure, leaning towards the appearance of a true kush. It has dark leaves that turn black with a complete cold-water flush and have extremely long, thick, wine-red petioles, or leaf stems, that are actually longer than the leaf is in length.
Aroma
To its name, Girl Scout Cookies has a sweet and spicy, oven-baked smell.
Flavor
From the two disclosed parents, Durban Poison and OG Kush, there are taste elements of skunky peppermint and the slightest lemon zest. The "F1" unknown parent may be responsible for the yeasty bread-like taste that dominates the pallet.
Medical
Medical marijuana patients choose this strain to help relieve symptoms associated with chronic pain, nausea, and appetite loss. Growers say GSC grows in green and purple buds with fiery orange hairs. This strain has an average flowering time of 9-10 weeks. There are several different variations of GSC, including Thin Mint and Platinum GSC (aka Platinum Girl Scout Cookies). Fun Fact: GSC has won numerous Cannabis Cup awards.
There are several phenotypes of this strain that include other clever plays on the plant's former name, such as Thin Mint and Platinum Cookies, however, GSC stands out from the pack with its bright purple leafiness and twisting greenery. Additionally, the THC content of this variation truly makes it a one of a kind experience.
Type of High
Girl Scout Cookies induces uplifting cerebral high and mild body relaxation. Energizes the mind, prompts giggles and social behavior. Alleviates depression, relaxes the body, relieves stress. Stimulates appetite and has mild analgesic properties.
Genetics
AKA: Cookies Strain or GSC. Girl Scout Cookies cannabis strain is a cross between OG Kush and Durban Poison.
Indica Dominant Hybrid – 75% Indica / 25% Sativa
THC: 19% – 24%, CBN: 1%
OG Kush is an American marijuana classic, a Southern California original with some of the highest THC levels in the world. With a 25:75 sativa/indica ratio, this strain pulls no punches. Expect a hard, mixed high with intense euphoria followed by serious couch-lock. The plant's THC concentration can reach levels as high as 19-24%. That just 1 percentage point less than the current record-holder. The cerebral boost from OG Kush is ideal for depression, bipolar disorder, and anxiety, while the heavy body high can help with pain and nausea. OG Kush is also used to treat Alzheimer's disease. Dry mouth and eyes are the most common negative effects, though headaches and paranoia are also possible. This strain is a hybrid, probably a descendant of a female Chemdawg plant and a male Hindu Kush plant. OG Kush, which has given rise to countless West Coast strains, has an earthy, wood taste and a strong pine scent. It's most popular in California, the Pacific Northwest, and Colorado.
Durban Poison
Sativa
THC: 24%, CBD: 1%, CBN: 1%
Expect a major blow to the head from this super-potent strain. A pure sativa, Durban Poison is the beloved inbred descendant of a sativa strain grown in South Africa. Ed Rosenthal, an American cannabis activist, discovered the original strain and brought in back to the United States in the 1970s. It has long been a favorite of stoners and medical marijuana patients here. Durban Poison has THC levels that can reach 24%, making it one of the world's more powerful strains. This strain hits with a strong, happy head high that's great for creativity and daytime errands. Paranoia may be a possible side effect, along with dry mouth. Durban Poison is an effective treatment for depression and anxiety, as well as chronic pain, and it can also be helpful with nausea. This strain is ideal for making concentrates, as the bud is covered in over-sized trichomes. The dominant smell and taste of Durban Poison is earthy and sweet, with a subtle pine aroma. The buds are round and chunky, with a dense coating of trichomes. This strain is best for active periods, chores, and other daylight activities.