Indica Dominant Hybrid – 70% Indica / 30% Sativa
THC: 22%
Grapefruit Kush is an indica dominant hybrid strain with a 70:30 indica/sativa ratio. The strain is produced by crossing Bubba and Grapefruit and it has an amazing 22% THC content. The strain produces some of the most amazing buds you can get your hands on. The nuggets are light green in color and are covered by amber hairs that seep through the surface. Unlike other indica dominant hybrids strains, Grapefruit Kush is neither fluffy nor dense. As for the smell, it has a fruity aroma but is quite strong at the same time. The taste is more or less the same but it burns more smoothly, which is a treat for any cannabis user. The strain will relax your body and mind in no time. You may even experience symptoms of euphoria and will feel happy at the same time. But then again, it will numb your body and will make you feel tired. This is one of the reasons why the strain is recommended for nighttime use. However, considering its effects, the strain does offer some advantages at the same time. The strain has been used for treating various medical conditions on more than one occasion. It is quite effective for patients suffering from pains and aches, insomnia, depression and even anxiety.
Grapefruit Kush buds are not nearly as dense as most other Indica-dominant hybrid flowers, landing somewhere in the middle between dense and fluffy. These bright, lime-green nugs are covered in a dusting of snow-like trichomes. Depending on the trim, this bud can often be covered in fluffy bright orange hairs as well. Just about every smoker who picks up Grapefruit Kush finds themselves absolutely delighted by the fruity uplifting aroma that explodes from the packaging. The flavor of the smoke produced by this bud is very similar to its scent but is often described as producing incredibly smooth hits.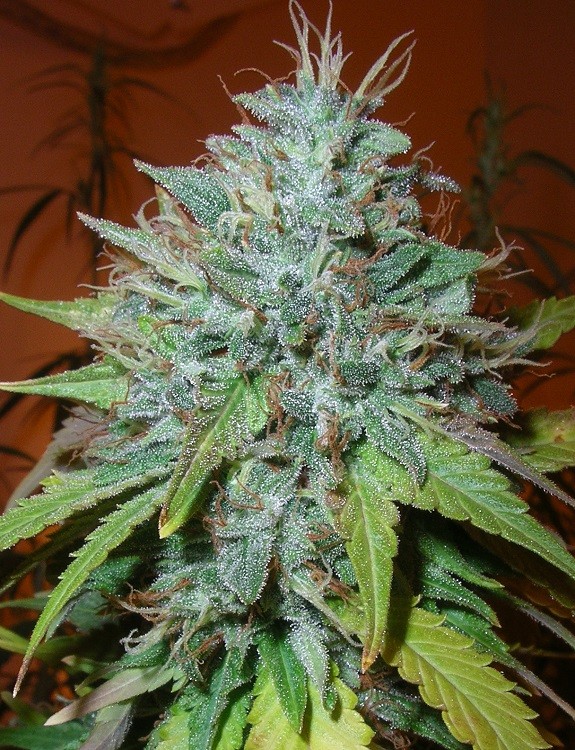 This evening-strain will have you messed up from the get-go. Many users report a rushing wave of relaxation and numbing washing over the body immediately after exhaling. In no time, both your mind and body will become completely relaxed but not sedated. Some users even report a little bit of a cerebral high shining through, as uplifting feelings of euphoria and happiness develop in their psyche. Many users report the downturn of this high turning into couch-lock and physical exhaustion. Thus, medical cannabis patients and recreational users alike who suffer from physical aches and pains or insomnia that prevent a good night's sleep may find themselves using this strain to get some rest. Some reviews of Grapefruit Kush available online also cite cases of the munchies being a side effect of this strain, making it a great option for those who suffer from nausea, lack of appetite, and other gastro-intestinal issues.
Potential Positive Effects of Grapefruit Kush
Grapefruit Kush is a potent indica-dominant strain that is known for its powerful sedating effects. Consumers and patients describe the effects of Grapefruit Kush as being euphoric, relaxing, and happy. Smoking a bit too much Grapefruit Kush might leave consumers knocked out on the couch.
Type of High
GrapefruitKush marijuana strain induces strong cerebral euphoria followed by relaxation. Uplifts mood, boosts energy, prompts giggles. Stimulates appetite, relieves stress. Relaxes the body with good analgesic and antispastic properties.
Potential Negative Effects of Grapefruit Kush
The adverse effects of Grapefruit Kush are dry eyes and cotton mouth. However, some consumers have reported feeling groggy after consuming Grapefruit Kush.
The Lineage of Grapefruit Kush
Grapefruit Kush has a beautiful set of parents which have helped make it the strain many people love today. This strain is a cross between BC Kush and Grapefruit. With such a strong Kush heritage, this is the perfect strain for anyone who adores the classic Kush taste.
Growing Grapefruit Kush
Grapefruit Kush is an easier strain to produce than most. It has a flowering time of around 50-60 days. It stays short and bulky with a height of about 50 inches tall. The yield of Grapefruit Kush is relatively high and is bound to please any beginning grower. Even novice growers enjoy having Grapefruit Kush around for its beautiful buds and pungent aroma. This strain does well in both indoors and outdoors cultivation facilities. Overall Grapefruit Kush is an exciting strain to grow!
Where to Find Grapefruit Kush
Grapefruit Kush is relatively abundant at dispensaries in states like California, Washington, and Oregon. However, it is even more abundant in the marijuana market in Canada.
Lab Data
| Cannabinoid | Amount |
| --- | --- |
| THC: | 15-20% |
| CBD: | <1% |
History
Parent strains of Grapefruit Kush are a cross between the sativa Grapefruit and the indica BC Kush.. Others contest it's a cross between the indica Bubba and hybrid Grapefruit.
Genetics
Grapefruit Kush cannabis strain is a cross between Bubba and Grapefruit.
Bubba
Bubba Kush is a heavy indica hybrid that enjoys very wide popularity. The strain's original L.A. breeder claims that while one parent was an OG Kush plant, the other was an unnamed Northern Lights phenotype brought back from Mardi Gras in New Orleans; this unnamed mother strain affectionately came to be known as "Bubba," and has since been lost. Prior to 1998, Bubba Kush was only available as a clone, but it has since been replicated so that its seeds could be packaged and sold. Bubba Kush is a classic indica with a solid sedative high that leaves users relaxed but still functional. It has a typically high THC content, ranging from 15% to 22%.
Bubba Kush has small to medium sized buds that have the dense bud structure characteristic of indica varieties. The leaves are dark green and can sometimes show shades of purple, the result of anthocyanin pigments having been activated by cold temperatures during the growing process. This is a very resinous strain — a coating of white trichomes covers the colorful leaves, and are even visible on the inside when buds are broken open.
The flowers have a vague aroma of coffee or cocoa, with some slight fruitiness beneath. When burnt, Bubba Kush smells more hashy and spicy, as might be expected of a Kush, with smoke that is fairly harsh and cough-inducing. Notably, this is one strain whose purple flowers do not result in a grape-like taste: the pigments that determine Bubba Kush's color do not affect flavor. The taste is mostly dank, with some sweetness and a peppery kick in the exhale. This is also a particularly pungent strain — users concerned about discretion should plan accordingly.
Grapefruit
Sativa Dominant Hybrid – 70% Sativa / 30% Indica
THC: 20% – 25%, CBN: 1%
Grapefruit is a longtime marijuana classic, a heady blend of the hybrid Cinderella 99 and a sativa bred specifically for its grapefruit flavor. With a sativa/indica ratio of 70:30, this strain packs a decidedly cerebral punch, with a major mood boost and intense euphoria. THC levels have been charted at 20%, so this is a pretty powerful strain. CBD levels, meanwhile, are very low, ruling this out as an effective treatment for epilepsy. But it's highly effective at relieving anxiety and depression, as well as pain, GI distress, and PMS. The sweet taste and smell of grapefruit are dominant, thought there are also hints of other citrus fruits. Adverse effects are usually quite limited, though dry mouth and red eyes are possible. Dizziness and paranoia are more rare. Grapefruit is common across the country, sold largely on the basis of its unique flavor and aroma. It's most popular in Colorado and on the West Coast, though it can also be found in other legal markets and the black market. This strain is highly appealing to smokers looking for a strong head high, less so to patients seeking physical effects.
You can find out about White Walker Kush Cannabis Strain here!