Hybrid – 50% Sativa /50% Indica
THC: 20%
Big Kush is an evenly balanced hybrid (50% indica/50% sativa) strain created through crossing the classic Big Skunk X OG Kush strains. This celebrity child boasts a super high 20% average THC level and dazzling oversized nuggets that are sure to leave you mouth watering. The Big Kush high takes on the characteristics of its parent strains, with lifted and euphoric effects that can be overpowering for some users thanks to the high potency level. You'll feel a happy onset that lifts you into a state of mental relaxation. This calming effect will soon spread throughout the rest of your body in tingly warming waves, lulling you into a sleepy state that often ends in dozing off. Thanks to these effects and its powerful THC level, Big Kush is said to be perfect for treating conditions such as insomnia, cramps, chronic stress, nausea, and chronic pain. Big Kush buds have huge oversized super fluffy popcorn-shaped minty green nugs with dark orange furry hairs and a coating of bright white frosty tiny crystal trichomes. Big Kush buds have a sweet skunky lemon flavor with a hit of savory fuel on each exhale. The aroma is very herbal and dank with a lemon diesel overtone accented by sour citrus and spices.
Novice users take note – this strain hits hard at her average 20% THC level. Looking at the nugs alone nearly tells you as much with a fluffy mint green exterior that features dark hairs and very bright white trichomes. True to the Kush family lineage, Big Kush's flavors lean toward a strong lemon and diesel combination, with flavors that are more herbal in nature. The same sour lemon still peeks through but is overshadowed by spices.
True to a balanced hybrid, the high you'll experience with Big Kush is interesting, to say the least. Initially, you'll enjoy a huge wave of euphoric energy that leads you to believe any task can be accomplished with ease. While that might be true for a short period of time, you'll eventually succumb to a sense of sleepiness that you just can't shake. Relaxation becomes the number one priority here, making Big Kush an ideal strain for night time.
Big Kush works just as well for medical ailments as she does for your recreational desires, with both mental and physical ailments being greatly affected by her wiles. Stress and depression are naturally relieved by the boost in spirits you'll enjoy, and surprisingly enough, nausea is a top condition that this bud tends to help with. Bodily pain is also soothed due to her strong THC levels, and if you smoke enough of it, insomnia can also be banished.
Individuals who want to plant their own cannabis garden at home would be wise to invest in some Big Kush seeds, as this strain is easy to cultivate and produces nicely sized yields. She does well inside or outdoors, but you have to think things through before you plant – fully mature structures can get up to 9 feet tall in some cases. Flowering within about 8 weeks, Big Kush requires little trimming and is an easy to maintain strain.
If you can handle your weed, Big Kush is probably one of the most ideal strains you can enjoy for a night at home. Her flavors may not be super enticing, but if you can get past that and start to lean into your high, the balance of energy and relaxation will surely be welcome. Keep some of this strain handy for those times when you need a bit of medical relief or simply when you want to impart a bit of spunk into your night before winding down into a deep sleep.
| | |
| --- | --- |
| Brand | Dinafem |
| Genetics | 50% Indica / 50% Sativa |
| Parents | Big Skunk x OG Kush |
| Flowering Time | 9-10 weeks |
| THC | 20% |
| CBD | 0-1% |
| CBD:THC | 1 : 200 |
| Yield (Indoor) | 550-600 gr/m² |
| Yield (Outdoor) | 750-800 gr/plant |
| Height (Outdoor) | 300cm |
| Available as | Feminized seeds |
| Flowering Type | Photoperiod |
| Sex | Feminized |
What does Big Kush taste like?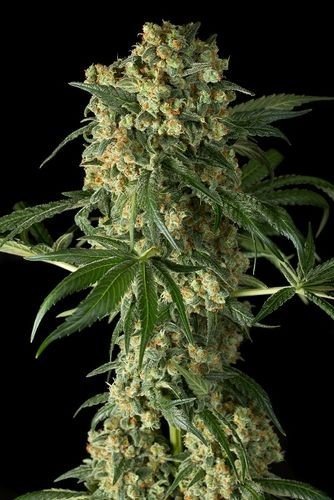 The organoleptic properties of this variety are more typical of a science fiction film than of reality itself. Its taste is impressive, and old school smokers will no doubt appreciate it even more, for its lemony, woody and floral notes.
What effect does Big Kush marijuana have?
As a good daughter of the Og Kush, Big Kush is very relaxing at body level, perfect to enjoy at the end of the day after a very difficult day in the office. Medicinally it is highly recommended for those who suffer from insomnia can sleep without problems.
How do you grow Big Kush plant?
In indoor crops, Big Kush is very easy to grow, as it does not require much knowledge to get the best version, so even the newest grower can get good harvests. It reacts very well to all the cuddles it receives, such as a powerful spotlight, more specifically a LEC lamp with 315w and a reflector Adjust a Wings. Place it in 2,9 US gal pots (11 litre pots) and put a maximum of 9 plants in a 3x3ft cabinet.
In outdoor crops, it is quite resistant to pest attacks, especially for its speed, as it is ready at the beginning of September, just before the rains burst into the shorter summer climates. In fact, when I first cultivated Big Kush, I lived in Basque country and didn't have a single problem with it. Put it to start in a small pot of about 0,8 US gal (3 liters), when you see that there are no significant advances you move it to a pot of 1,3 US gal (5 liters), then to a pot of 1,85 US gal (7 liters) and finally to a pot of 2,9 US gal (11 liters). When you go to change the photoperiod you put it in a final pot of at least 13,2 US gal (50 liters).
What's Big Kush production?
One of the strengths of Big Kush is its production capacity, a great choice for those looking for a cash crop.
You can find out about WSU Marijuana Strain here!
They say that stars are born and not created, I agree and I have no doubt Big Kush is destined to be one of the goddesses of the cannabis Olympus.