Hybrid – 50% Sativa /50% Indica
THC: 25% – 29%
Bacio Gelato is a rare evenly balanced hybrid strain (50% indica/50% sativa) created through crossing the delicious Sunset Sherbet x Thin Mint Girl Scout Cookies strains. The perfect hybrid for any lover of full-bodied and stimulating highs, Bacio Gelato brings on the hard-hitting effects and super delicious flavors with each and every toke. The high comes on almost immediately upon exhale, launching its way through your mind with a lifted sense of creativity and euphoria. As your mind reaches higher and higher into this stimulated state, a buzzy body high will wash over your body, leaving you fully relaxed and pretty aroused at times. With these effects and its super high 25-29% average THC level, Bacio Gelato is often suggested for treating experienced patients suffering from conditions such as chronic pain, depression or mood swings, chronic stress, nausea or appetite loss and chronic fatigue. This bud has a super sweet and sour fruity berry flavor with a notable punch of mint upon exhale. The aroma follows the same profile, although with an earthy herbal effect that intensifies as the nugs are burned away. Bacio Gelato buds have small thick spade-shaped olive green nugs with dark purple undertones, vivid orange hairs and a coating of purple-tinted white crystal trichomes.
This strain might test one's abilities to grow. It grows in both, indoor and outdoor gardens. Due to its high potency, it is best suited on a lazy day with minimal plans to ease out stress and anxiety. The flowers are covered in orange hairs and it almost hides all the green parts. Bacio Gelato is highly recommended as a daytime smoke to chase anxiety, depression and all the bad vibes.
What are cannabis strains? Most of the cannabis strains have been bred and grown commercially and have been giver more than 2300 distinctive names. They are either pure or hybrid varieties of the plant genus cannabis, which includes the species C. sativa, C. indica, and C. ruderalis. To learn more, check out MarijuanaDoctors.com directory of cannabis strains so you can identify which meets your health requirements best. To learn more, check out MarijuanaDoctors.com's directory of marijuana strains.
If you've been around the block a few times, it's likely that Bacio Gelato won't hit you super hard but instead will fill you with a euphoric sense of creativity that could lend itself to a range of artistic endeavors. As you spiral higher and higher into this so-called bliss, you might find that your body wants to move in the opposite direction. Many fans of this strain have said that they experience an intense body buzz that's both relaxing and sometimes arousing. It might be a good idea to smoke Bacio Gelato with a loved one if you can.
While she sounds like all fun and games, there's a therapeutic side to this strain as well. Those who use Bacio Gelato for medical reasons claim that she works to banish depression and anxiety pretty easily. If you struggle with nausea or a lack of appetite, this bud could help there as well. Finally, as with most hybrid strains, this gal could be an effective option if you're dealing with physical pain.
Sherbinski is a well-known grower in California and it's not uncommon for home cultivators to want to emulate their strains. However, this group keeps a tight lock on their seeds and it's highly unlikely that you'd be able to purchase any. Not much is known about their growing operation, so even if you did get your hands on Bacio Gelato seeds or clones, you'd be taking a shot in the dark when it comes to actually reaping a harvest.
Most widely found on the West Coast, Bacio Gelato is one of those strains that you can't afford to not try. Even if you aren't a huge gelato or sherbert fan, her unique flavor profile and wide mixture of reported effects are enough to peak just about anyone's interest. If you're not sure where you are when it comes to tolerance, it's best to try this gal in the evening when you don't have much going on. Otherwise, integrate her into your afternoon routine for an instant boost!
San Bacio Gelato grows with a dense, tree-like structure featuring significant lateral branching. Whilst this may sound like the strain needs round-the-clock attention, that couldn't be further from the truth. She is robust and copes well in both dry and humid conditions, but requires occasional pruning as she grows. Using a trellis in the later stages of growing will give her that much-needed support as she ascends up to 4m. San Bacio Gelato provides a hearty indoor yield of 450–550g/m² after a 60–67-day flowering period. You can expect to see considerably more outdoors when harvest comes around in mid-October: roughly 3000–4000g/plant.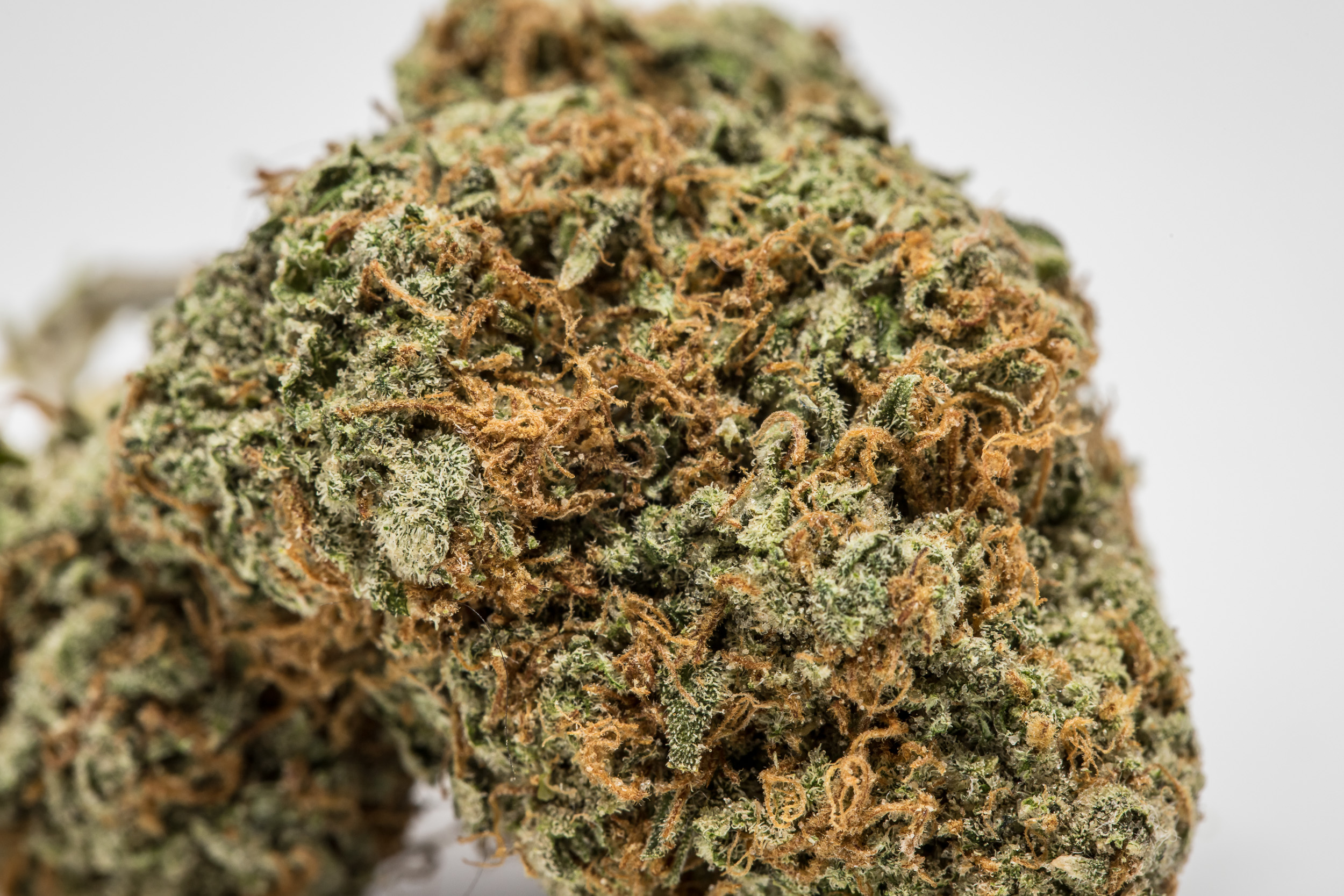 The dense and plentiful buds she supplies will take you by surprise in the best way possible! You can anticipate a flavourful and aromatic experience par excellence. Packed with sweet 'n' spicy flavour notes of pepper, tangy berries, citrus, and pine, the experience is only heightened by a THC content of 20–25%. San Bacio Gelato's high is one to enjoy when looking to relax, unwind, and engage in some much-needed contemplation.
San Bacio Gelato is a true all-rounder. From her extremely rewarding growing process to her top-tier smoke, the main worry with her is running out too soon!
| | |
| --- | --- |
| Brand | Humboldt Seeds |
| Genetics | 75% Indica / 25% Sativa |
| Parents | Bacio Gelato x 3 Kings BHB |
| Flowering Time | 9-10 weeks |
| THC | 25% |
| CBD | 0-1% |
| CBD:THC | 1 : 200 |
| Yield (Indoor) | 500-550 gr/m² |
| Yield (Outdoor) | 1000+ gr/plant |
| Height (Indoor) | Tall |
| Height (Outdoor) | 400cm |
| Available as | Feminized seeds |
| Flowering Type | Photoperiod |
| Sex | Feminized |
THE BACIO GELATO STRAIN IS A GREAT SEQUEL TO SUNSET SHERBERT; ONE OF MR. SHERBINSKIS' FINEST CULTIVARS
Mr. Sherbinskis is a legendary cannabis grower responsible for the Sunset Sherbert strain and its many Cookies off-shoots. Sherbinskis is a "dessert first" advocate as his signature cannabis strain menu suggests. The Bacio Gelato strain is still generally hard to find in recreational cannabis markets. However, there's no doubt it's worth sending out a search party for.
The Bacio Gelato strain is an amalgamation of Girl Scout Cookies' genetics. Sunset Sherbert is the centerpiece and hails from the Girls Scout Cookies strain (GSC) and Pink Panties. Sherb was crossed with Thin Mint Cookies which is a special peppermint bearing phenotype of GSC (F1 x OG Kush).
Bacio Gelato has all the purple splendor you'd come to expect from a Gelato strain spinoff and covered in frost like a snow-capped mountain. The classic Italian ice-cream flavor with the same name produces hazelnut and chocolate flavors while smoking it delivers earthy notes with touches of vanilla on the front end.
This strain's viscous smoke and drowsy high will erase stress, according to some. New cannabis users should be careful with this one while experienced cannasseurs should add it to their bucket list immediately.