Indica Dominant Hybrid – 70% Indica / 30% Sativa
THC: 20% – 22%
Kuchi is a slightly indica dominant hybrid (70% indica/30% sativa) strain created as one of two crosses – one between the infamous Cheese X SFV OG Kush strains and the other between the classic Cheese X OG Kush strains. This delicious bud boasts a moderately high THC level between 20-22% and relatively balanced effects that are pleasant to behold. The onset has a creeping feeling that slowly builds into a relaxing body buzz with substantial pain relief and a slight couch-lock. This indica body high is accompanied by ebbing jolts of uplifted cerebral energy that leave you motivated with laser-sharp focus. In all, you'll be happy and energized with a sense of deep relaxation and pain relief in both mind and body. Because of these powerful effects, Kuchi is ideal for treating chronic pain, mild to moderate cases of depression, chronic fatigue, and chronic stress. The Kuchi taste is insanely delicious – first you'll experience a sweet tangy fruit before detecting flavors of pine and mango. The aroma is just as enticing, with a bouquet of sweet tropical fruit and a hint of earthy pine. Kuchi buds have small spade-shaped forest green nugs with dark orange hairs, dark leaves, and a frosty layer of milky golden trichomes.
You can find out about Banana Kush Marijuana Strain here!
THC levels are very consistent with this strain, and most users can enjoy her at an average of 21%. While her nugs are typically small, their dark green color is sprinkled with deep orange pistils and absolutely caked with a thick layer of golden trichomes. Tropical fruit and pine come together beautifully in both her flavor profile and aroma, with just the slightest hint of milky cheese peeking through at the end.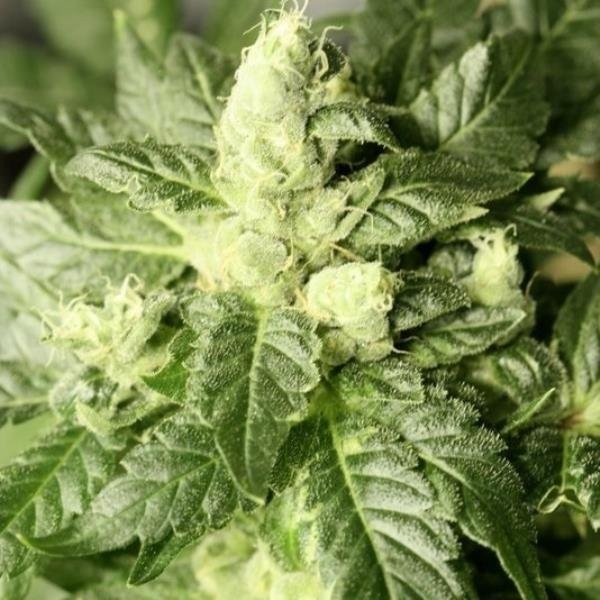 Initially, the Kuchi high will make you wonder if you, in fact, smoked a hybrid at all, as wave upon wave of energy will wash over you. A clearheaded experience will overtake you and offer focus and creativity, allowing you to be an absolute powerhouse at work. Alongside this motivation is a sense of joy that turns every frown into a smile and makes you nearly unstoppable. However, keep in mind that this bud is indica-dominant, and before long, she'll force you to succumb to her relaxing ways. Rather than simply taking you down a few pegs, you'll have to fight to stay awake and instead will likely fall into a peaceful slumber.
Given that both her uplifting and sedating effects are so powerful, Kuchi tends to be a prime choice for medical patients. Mental woes including depression and stress are alleviated without a second thought and physical issues including headaches and chronic pain tend to be soothed by the full body relaxation you'll enjoy. Many use Kuchi to help fight fatigue while others rely on her arousing abilities to get them through the night.
Kuchi was designed with commercial growers in mind, so if you're hoping to rear some at home, you'd better bring your A game. Although this strain will do quite well in a range of environments, it's best if you keep her in a warm area, whether that be inside or outdoors. The Sea of Green method will ensure the highest level of success and after 9 to 10 weeks you should be able to harvest a pretty nice yield.
It's always best to know your limits when it comes to cannabis, but with Kuchi, you'll really want to understand just how you'll react before you go on a smoking spree. This bud is recommended for afternoon or evening consumption, because even if you're hoping to cash in on the energy she provides, you'll most certainly come down hard and fast, making for an awkward conversation with your boss.
Grow information
Kuchi is an indica-leaning hybrid that develops short, squat plants highly resilient to most environmental hardships and pests. The cultivar prefers warm temperatures and semi-humid climates with lots of sunshine. The strain is moderately challenging to grow, though skilled cultivators can boost Kuchi's yields by using the SOG method. Kuchi flowers in nine to ten weeks indoors and in late October outside.
Kuchi is available as seeds and clones.
Kuchi Strain Effects
Couchlock! Perfect for a deep relaxing sleep or a cozy night in there is a certain mellow full body relaxation that accompanies this flower. Find tension eased with the deep pine scents as your sofa becomes more and more comfortable.
Due to the deep relaxation effects of this flower it has been recommended for anxiety relief and insomnia. Pain relieving properties have also been noted.
Kuchi marijuana induces happy, focused, relaxed, hungry, and aroused feeling. It may also also help relieve the following medical symptoms: depression, headaches, pain, stress, and fatigue. You may have dry mouth, paranoid, anxious, and as side effects.
Kuchi Strain Medical Benefits
Ongoing research has suggested that high THC and low CBD strains may have potential benefits including stimulating appetite and relieving symptoms of Glaucoma. Although thought to be more effective when working together with CBD, THC is also understood to have some pain-relieving properties on its own. Considering this, this high THC strain may also provide some relief from general aches and pains.
Kuchi Strain Genetics
Kuchi is a cross between a male San Fernando Kush and an Exodus Cheese female. This is the first strain Devil's Harvest Seeds officially developed when they first started. Kuchi is a fan favourite in Dutch coffeeshops among both locals and tourists.
Type of High
The Kuchi cannabis strain has a creeping feeling, that slowly builds into a relaxing body buzz with substantial pain relief and a slight couch-lock. After smoking this strain you will feel happy and energized with a sense of deep relaxation.
May Help Relieve
Because of its wide variety of effects, Kuchi weed is suitable for assisting with a number of medical ailments, conditions, and symptoms. Overall, Kuchi is considered most suitable for helping with those who are suffering from depression, headaches, and pain.
Side Effects
Unsurprisingly, the most common side effects that have been reported from Kuchi marijuana include dry mouth, paranoid, and anxious. If you are experiencing these effects, be sure to stay hydrated and drink plenty of fluids.
Cannabis Strain Summary
| | |
| --- | --- |
| Strain | Kuchi |
| User rating | 4 / 5 |
| THC | Under review |
| CBD | Under review |
| Flavors | Earthy, Lemon, Cheese |
| Effects | Happy, Focused, Relaxed |
| May Relieve | Depression, Headaches, Pain |
| Side effects | Dry Mouth, Paranoid, Anxious |
| Price | Pending |