Indica Dominant Hybrid – 70% Indica / 30% Sativa
THC: 23% – 26%
Forbidden Fruit is an indica dominant hybrid strain created through a cross of the insanely delicious Cherry Pie X Tangie strains. It's name may say it's forbidden, but you'll be tempted to have more and more after one tasty morsel of this delicious bud. The Forbidden Fruit flavor is incredibly smooth and fresh, with a fruity sweet lemony taste that's accented by sweet berries and pine. The aroma is very sweet as well, with a pine overtone that's complemented by lemony berries and earth. Forbidden Fruit buds have dense pebble-shaped dark forest green nugs with sparse orange hairs and a thick frosty coating of minty green crystal trichomes. If you like the taste of Forbidden Fruit, you'll love the high even more. It starts with an uplifted euphoric effect that boosts your mood and leaves you feeling happy and content. As this head high continues, your body will fall victim to a powerful stone that leaves you helplessly couch-locked with a moderate buzzing feeling that eases away any aches or pains and often causes you to fall asleep. Because of these effects and its powerful 23-26% THC level make Forbidden Fruit ideal for experienced users suffering from chronic pain, insomnia, chronic stress, and migraines.
If Forbidden Fruit's flavor profile didn't get you, the high certainly will. This smooth burning bud offers users a break from coughing fits and induces an immediately chill mind, great for unwinding at the end of the day. This nightcap strain builds through the head and neck, making its way to the rest of your body with an almost tranquilizer-like relaxation and will almost instantly give you that sleepy feeling. Though it won't completely knock you out right away, this strain is euphoric and uplifting but definitely aims to give you a great night of sleep.
Forbidden Fruit may sound daunting when you hear it, but this plant actually isn't too hard of a grow. It is recommended for those with skills at least intermediate level or above. This is an indoor/outdoor ready seed, though controlled environments are best. Expect a flowering time of around 10 weeks and an average yield in the right conditions.
As rare as its name might suggest, this strain is not totally impossible to find, though you might have a good go at it. Because it's not totally clear what countries or states offer this gem, you may have to do a bit of research to get your hands on it. With that being said, once you've tried it, you're unlikely to get it off your mind. This Forbidden Fruit is one that even the snake would keep for himself.
You can find out about WSU Marijuana Strain Information here!
Appearance and Aroma
Just like the name suggests, Forbidden Fruit looks exactly as you think it would. Tropical, bright lime green breathes life into the bud's appearance, giving it a vibrant, electrifying look at a glance. But deeper into the nugs, pink, orange, and yellow give it a more lively and dynamic aesthetic, as though taking on the appearance of a succulent piece of tropical fruit that's ready to be plucked from its branch.
All over the exterior, networks of fine yellow-orange tendrils barricade the bud in a cage of delicate saturated color. The tendrils turn reddish towards their tips, and make the strain look even more appealing from its place on the top shelf.
Stick your nose into the bag, and the aromatic scent of fruit should come at you like a truckload of fresh picks. The delicate fragrance is enveloped in a strong saccharine scent, similar to the smell of cold dew drops trickling down the flesh of a fresh slice of pineapple or succulent mango. Needless to say, it smells just like a piece of heaven, and may get you to want to sink your teeth into the bud.
Experience and Effects
Take a step into the paradise that is the Garden of Eden and discover the blissful feeling of being as close to perfection as humanly possible with the Forbidden Fruit strain. The otherworldly experience begins with the taste of sweet, honey-dipped fruit trickling down your throat and latching to every square inch of your tongue. The delectable flavor is even more profound during the exhale, as your body releases the sweet, fruity smoke from your lungs.
With a mild gasoline end note, the taste experience ends and the effects of the strain start to take place. At first, the gentle ebb of calm collectedness enters your mind in waves. The slow effects come in portions, but as it reaches its full impact, it overwhelms the body with an electrifying sense of relaxation that tingles at the ends of the hands and feet.
Along with the physical impact, the strain also delivers pleasant cognitive release. The heady effects clear the mind of clutter and negative thoughts, allowing you to enter a state of total meditation. The clarity and focused cognition can be a wonderful way to explore new thoughts and ideas or to simply examine the effects of the strain on your body as a whole.
Fast acting and long lasting, taking a toke of Forbidden Fruit now mean enjoying the blissful state of clarity that it brings hours after your last drag.
Potential Medical Benefits of the Marijuana Strain Forbidden Fruit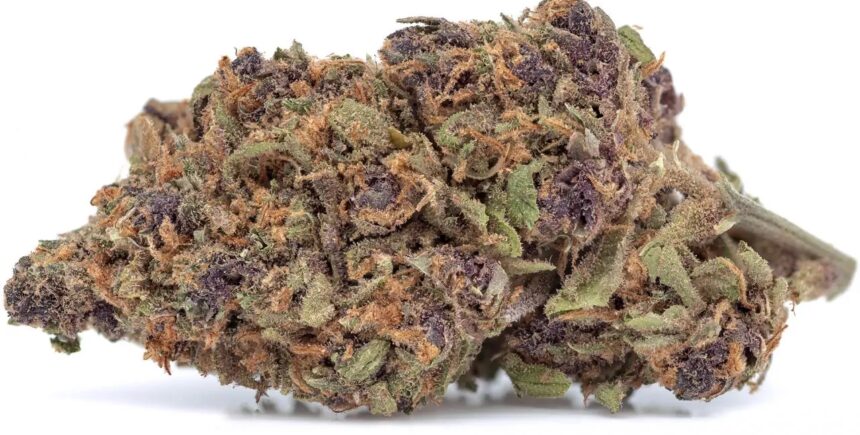 Forbidden Fruit is essentially the epitome of a medicinal marijuana strain; it is able to assist in the healing process for a multitude of medical conditions, far beyond simply the ones we will discuss in this section. This marijuana strain encourages relief for both the mind and body, alleviating some of the debilitating aspects of:
Chronic pain
Migraines
Muscle spasms (related to MS and unrelated)
Chronic stress
Lack of appetite
Insomnia
Depression
Anxiety
For those who are desiring relief from a mental or mood disorder, monitoring the amount you are consuming is important, and it is best to stick with low to average doses so that you can rest assured that no anxiety or unnecessary paranoia might occur.
Knowing your limits and sticking to them is vital for having a pleasant, beneficial experience with cannabis. Physical conditions, on the other hand, typically require a greater dose of cannabis. Edibles, concentrates, extracts and candies, are all methods of consumption that offer a way to receive more medical marijuana with less of the actual act of consuming required.
Possible Negative Side Effects of Forbidden Fruit
There are no known reported negative side effects from Forbidden Fruit, but that does not mean that some individuals won't still have a negative experience. Dry mouth (cottonmouth) and dry eyes are typical with most marijuana strains, and this can occur with Forbidden Fruit as well.
Dry mouth can be solved or decreased by drinking plenty of fluids and staying hydrated. Be sure to keep a bottle of water nearby, just in case the strain creates some couch-lock, so you won't have any excuses for not getting up to pour yourself a glass.
Dry eyes can be managed with a little extra preparation and planning. Moisturizing eye drops can be purchased from a local drug store for an inexpensive price, and they'll help to lessen any redness or irritation. In the most serious of circumstances, THC-induced anxiety or paranoia can happen, but this is with any marijuana strain that contains a potent quantity of this high-inducing chemical, so it shouldn't be of concern, especially if you are aware of your own personal reactions to cannabis.
You can find out about Orangeade Marijuana Strain Information here!