Hybrid – 50% Sativa /50% Indica
THC: 17%, CBN: 1%
A diamond is something that is truly invaluable so how can you really expect this strain to be anything less? There is nothing ordinary or normal about the Diamond OG, which is quite apparent from its effects. It is a very potent, long lasting strain. It relaxes the entire body instead of just the mind. This allows you to fall into a desired state of laziness. It can also make you euphoric and lazy which means it is perfect for a lazy day off. The strain looks beautiful due to its sparkling condensed buds, which also have a very strong aroma. It is quite effective against muscle spasms as well.
Diamond OG boasts impressively large flowers. These stubby, bullet-shaped nugs adhere in a dense, solid bud structure that is typically associated with indicas. Leaves are a dark shade of olive green and are threaded through with yellow to orange pistils. A thick layer of resinous trichomes glitters on the inner and outer surfaces of these flowers and makes them particularly sticky.
You can find out about Dutch Treat Marijuana Strain here!
The woodsy scent of pine and cedar wafts up from cured buds of Diamond OG. This dank aroma also has a citrus undertone, not often seen in OG varieties. Grinding up these sticky nugs releases a spicy, hashy scent, likely the influence of Afghani landrace genetics in the strain's background. Although it may be harsh and cough-inducing to inhale, a refreshing taste of citrus comes through on the exhale. Smokers should keep in mind that this can be a particularly pungent smoke; those looking to maintain discretion should take any necessary precautions.
Diamond OG offers what might only be described as a creeper of a high, often taking several minutes after users have savored its taste before its effects can be detected. A feeling of heaviness falls on the brow and eyelids; some may even feel dizzy or lightheaded. Relaxation spreads quickly, and smokers may head for refuge on the closest comfortable couch. Some mental effects are also present, but rather than cerebral or thoughtful, users are likely to feel elevated and euphoric. This sublime balance between body and head high can be an excellent way to unwind and allow the stresses and annoyances of the day to melt away. As time passes or as consumption is increased, smokers are increasingly likely to become couchlocked and dopey. In fact, at higher doses, smokers should expect to be incapacitated and shouldn't plan on productivity. Because of its sleepy vibes, Diamond OG is better suited to nighttime than to daytime use. Its stoney effects are said to be long-lasting and potent, even for experienced cannabis users.
This knockout strain's sedative properties can have several uses for medical cannabis patients as well. Its almost narcotic relaxation can be effective at soothing pain, whether it's temporary, as due to injury, or chronic, as due to conditions like lupus or arthritis. Diamond OG may also have anti-inflammatory properties, making it useful for relieving everyday annoyances like headaches or nausea. This bud's mood-enhancing properties can even temporarily improve the symptoms of stress, depression, and anxiety. Because it does not often bring about a disorienting feeling of "mindrace," Diamond OG is a good choice for those who are prone to panic or who have a low THC tolerance.
Although seeds of Diamond OG do not seem to be widely available for sale online, companies like Midnight Farms sell clippings from mature, healthy plants that can be grown as "clones." The strain can be grown indoors or outdoors in semi-humid climates with daytime temperatures between 72 and 80 degrees Fahrenheit. These characteristically indica plants tend to grow short and bushy and can be easily accommodated indoors. Diamond OG flowers within 9 to 10 weeks and offers an average yield of flowers. Finally, as much as this strain is a pungent smoke, it is known to be a very pungent grow; those who would like to keep their growing operations under wraps should invest in odor control measures like exhaust fans.
While it may not last forever like real diamonds, a stash of Diamond OG is sure to become your new go-to indica. With strong, long-lasting effects and a rich, incense-like aroma to boot, this strain is as enjoyable when savored alone as it is when shared with friends.
Aroma
Experienced users tend to immediately recognize the OG Kush lineage when they get a whiff of Diamond OG. You will likely get a woody and citrus aroma, along with the strong hashy and skunky scent synonymous with Kush strains. This strain has a powerful odor, so don't use it if you want a secret smoke!
Flavor
Novices might find that Diamond OG provides a relatively harsh smoking experience. There is a possibility that you'll start coughing when using it for the first time. The skunky taste is apparent, while there is a refreshing citrus flavor on the exhale.
Appearance
This strain has large flowers with nugs shaped like bullets. The orange and yellow pistils look good against the olive-green leaves, while the resinous trichomes sparkle on the flowers.
Diamond OG Cannabis Strain Grow Info
You can grow Diamond OG indoors or outside. It is a robust plant that is resistant to pests, mold, and white mildew in particular. While it requires some maintenance, first-time growers can take on the challenge. Unfortunately, you won't find Diamond OG seeds widely available online. Therefore, you'll have to purchase clippings from mature plants to cultivate Diamond OG.
If you choose to grow this strain outdoors, it requires a warm and dry climate. It can produce up to 16 ounces per plant when cultivated under optimal conditions. This strain is ready for harvest outside by mid-October.
Growing Diamond OG indoors requires giving it a little more attention. It can grow up to five feet tall, so you may want to top it to keep the height under control. You should consider either the SOG or SCROG training methods to increase the yield. Speaking of which, you can get around 18 ounces per square meter indoors. Diamond OG's flowering time is 9-10 weeks.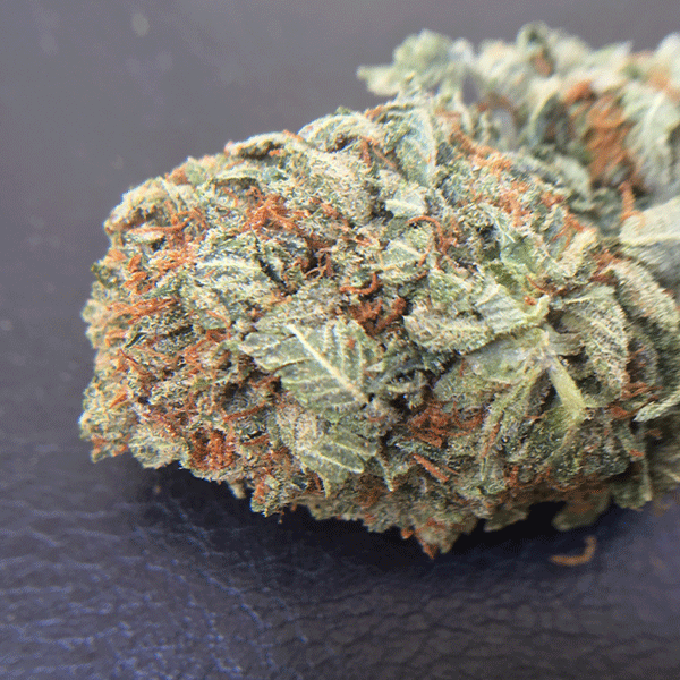 THC Content – Highest Test
This strain has a fairly broad THC range, according to testing. Depending on where you get it, Diamond OG's THC content could be between 13% and 22%. However, you can expect it to contain around 17% THC on average.
CBD Content – Highest Test
Considering it was not bred for the purpose, Diamond OG's CBD content of close to 1% is fairly substantial.
Medical Benefits of the Diamond OG Strain
The Diamond OG strain mixes a fairly high THC content with a reasonable level of CBD. The main reason to use this strain is to invoke a feeling of calming relaxation. After a few minutes, you might feel as if the world isn't such a scary place. As such, MMJ patients with anxiety or stress could try it. Diamond OG also helps improve a person's outlook on life, which may serve individuals with depression or another mood disorder well.
The Diamond OG strain is also highly sedative and is typically enjoyed by people who need help getting to sleep. Use it in the evening, and soon, you'll potentially find that sleep comes more easily to you than usual. The sedation you feel might also prove useful if you have chronic pain. As such, it is worth trying for MMJ patients looking to help with back pain, arthritis, or fibromyalgia.
Possible Side Effects of the Diamond OG Strain
The most likely side effects include dry eyes and cottonmouth. It would help if you had a glass of water nearby to help quench your thirst, though it may not prove enough for some users.
Individuals with a low THC tolerance might also find that they suffer from dizziness or headaches. In rare cases, there is the possibility of having mild paranoia.