Indica Dominant Hybrid – 90% Indica / 10% Sativa
THC: 25%, CBN: 1%
Critical Kush is a heavily indica dominant hybrid (90% indica/10% sativa) strain created by breeders at the infamous Barney's Farm as a potent cross between the insanely popular Critical Mass X OG Kush strains. This dank bud boasts a moderately high THC level ranging from 14-20% on average and a potent combination of indica and sativa effects. Users describe the Critical Kush high as having a slowly building onset of a hazy relaxed body high with a hint of euphoria. You'll feel completely at ease with significant pain relief as well as happy and uplifted. As the high continues, you'll fall into a deep state of introspection with a slowly building sense of sedation that will eventually ease you into a deep and pain-free sleep. Due to these potent effects, Critical Kush is said to be an ideal strain for treating patients suffering from conditions such as stress, chronic pain due to injury or illness, mild to moderate cases of depression, and sleep disorders, including insomnia and night terrors. Critical Kush has an aroma of earthy spicy pine and a taste of earthy pine with a sweetly spicy aftertaste upon exhale. These buds have dense fluffy popcorn-shaped light minty green nugs with dark orange hairs, rich purple undertones, and a layer of fine translucent trichomes.
You can find out about Dolla Sign OG Kush Marijuana Strain here!
When properly cured, flowers of Critical Kush emit a dank, earthy odor. There are some hints of citrus to brighten things up an aroma that becomes even more evident when grinding this bud but overall, the impression is dank and kushy. When combusted, Critical Kush may burn with a harsh and acrid smoke that can sting the eyes and sinuses. On the exhale, this thick smoke tastes like pine with a slight spicy kick. Finally, Critical Kush can be a very pungent smoke, and those looking to keep their consumption discreet should take any necessary precautions. Since Critical Kush offers a true creeper of a high, smokers should wait a while after their first toke before boosting dosage. As much as 15 minutes after sampling this strain, users begin to feel a tingle of relaxation spread through the limbs and core. Smokers also report a decreased heart rate and a lessening of muscular tension. Although mental effects are subtle, Critical Kush does have some effect on the senses, with many reporting visual or auditory distortion. Other than that, smokers shouldn't expect an intense cerebral experience; on the contrary, this bud is more likely to leave users contentedly dopey. It's a good choice for an evening indoors, spent working on mindless tasks like cleaning. If you're riding a more sleepy vibe, it's also a great option for binge-watching or for zoning out to some soothing music. Although Critical Kush can be fun in social situations, note that it can trigger couchlock in higher doses, and may make you less willing to actively engage with company. It should go without saying that, because of its heavily sedative effects, Critical Kush is better suited to evening than to daytime use.
Medical cannabis patients can also find various uses in this strain's therapeutic properties. It can work against deep-seated aches and pains, whether temporary or chronic. The medicine's anti-inflammatory may also help with more minor irritations like headaches or nausea. This strain's mood-elevating effects may provide some welcome (albeit temporary) relief from stress, depression, and even anxiety. Finally, in high enough doses, Critical Kush may lull even insomniacs into a deep, fulfilling sleep. Because paranoid, cerebral thinking isn't common with this strain, it's a good choice for those who are prone to panic or who have a low THC tolerance.
Both Barney's Farm and Dutch company Royal Queen Seeds have made seeds of Critical Kush available for sale online. It can be grown indoors or out, although successful outdoor cultivation calls for a semi-humid climate with temperatures between 72 and 80 degrees Fahrenheit. Critical Kush flowers within 7 to 8 weeks when grown indoors and is ready for harvest in late September when grown outdoors. Grown properly, it can offer as much as 56 grams (about 2 ounces) or flower per square foot of plant! Note that, just as this is a pungent smoke, it can be a very stinky grow (after all, parent strain Critical Mass has Skunk in its genes!) and indoor growers may want to invest in odor control measures like carbon air filters.
While it's great for a night at home, Critical Kush's dank and piney aroma is also a great way to enhance your enjoyment of the great outdoors trying bringing it along on your next camping trip.
Rich, flavorful and aromatic smoke
If you are interested in growing and trying this exciting hybrid for yourself, you can buy Critical Kush seeds directly from Royal Queen Seeds. This hybrid truly sets itself apart from other kush hybrid strains. While it will deliver a strong, satisfying effect, it will not put you on the couch for the rest of the afternoon. It also delivers a rich, flavorful and aromatic smoke that is sure to please even the most discerning of tastes with its subtle yet strong aroma. With its medium size and high yield, it lends itself excellently to the small space or indoor grower looking for a way to get the most yield out of his or her growing operation.
So if you are looking for a new strain for a more enjoyable smoke, a satisfying and lasting effect, or simply looking to increase your yields, this hybrid may well be the one for you. Royal Queen Seeds offers the seeds you will need at reasonable prices. Begin your experiment with this excellent kush today, and you can see high yields of a quality, high THC cannabis drying and waiting to be smoked in a matter of weeks.
A word of caution, Critical Kush is one you will be able to smell a mile away as the distinctive notes are pretty hard to miss. So, if you're looking for a more subtle, discreet bud, this may not be the one for you!
Critical Kush Grow Info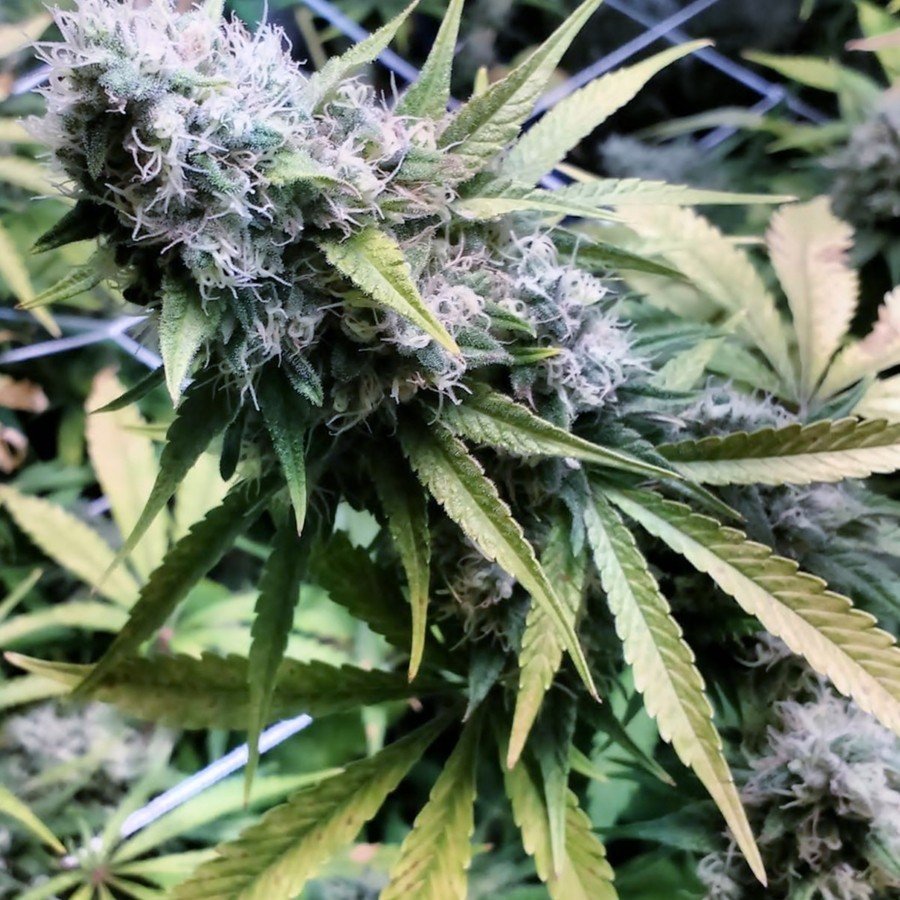 One thing we love about Critical Kush is how easy it is to cultivate, making it ideal for newbies who are beginners in the field. This plant is relatively resilient and can be successfully grown both indoors and out; however, most opt to grow it inside due to its mid-range height.
For outdoor growing, one should opt for humid conditions with temperatures around 72-80 degrees and a harvest time around late September.
If you are opting to grow your Critical Kush indoors, you can expect a flowering time of between 7-8 weeks, making this a pretty quick turnaround and great for those who aren't looking for a big project.
The yield on this bad boy is immense, so much so that it was ranked in the top ten highest yield plants, offering an impressive around 500-550 grams per square meter!
Medical Benefits of Critical Kush
If there is one thing we can say for sure when it comes to Critical Kush, it's that the effects are out of this world. It is extremely beneficial for a range of medical conditions. On top of the relaxing and calming properties commonly linked with a decent indica, you can also expect some real euphoric moments and a general good feeling of wellbeing.
Thanks to the CBD found within Critical Kush, patients suffering from anxiety, depression, PTSD and stress can benefit from the therapeutic properties found in this bud. What's more, is that there are no records of anxiety or paranoia with this one, so there should be little to no risk of these side effects occurring.
Many people reach for Critical Kush to benefit from its pain-relieving qualities, with many also reporting it works as a lovely pre-sleep bud that can lull you off for a night of pain-free rest.
One thing that is perhaps a little unusual about this flower is that, while it works amazingly well as a daytime smoke and will help you get through the last of the to-do list, it can also be a great way of unwinding.
Generally, the effects of Critical Kush are powerful, but not overwhelming and shouldn't lead to couch-lock if taken in the proper dosage.
Possible Side Effects of Critical Kush
The side effects of Critical Kush are pretty non-existent, with no reports of paranoia or anxiety, the biggest thing to look out for is the cottonmouth and slight dizziness.
We would advise both newbies and seasoned smokers to allow Critical Kush to work its magic before upping the dose to avoid any unwanted effects.
You can find out about Larry Bird Kush Marijuana Strain here!